Earlier this month the Reserve Bank of Australia elected to lower the official cash rate to 2.25% from 2.5% and today the bank released the minutes from this meeting. The minutes reaffirm that the RBA is becoming increasingly concerned about the lack of growth in non-mining parts of the economy and the need for a lower exchange rate.
The aussie remains overvalued according to the RBA
The RBA continues to believe the Australian dollar is overvalued and should fall alongside commodity prices, despite being around 4.7% lower against the US dollar since the beginning of the year prior to this month's policy meeting. The bank also noted that the aussie would be effected by extreme monetary policy loosening in other parts of the world, which is reducing the positive impact on the exchange rate of widespread USD strength.
The global push by many central banks throughout the world to weaken their exchange rates in order to make their export markets more competitive has been dubbed the global currency war. In theory central banks aren't supposed to artificially lower their exchange rates, but monetary policy is obviously a key metric for currency valuation, thus the temptation is there to loosen monetary policy in order to support ones export market.
In Australia, the RBA has been very vocal about the need for a lower exchange rate in order help facilitate a transition away from a resource investment based economy. This means that the level of exchange rate becomes an integral part of domestic monetary policy. In fact, we think the position of the exchange rate will be a key factor in the outlook for monetary policy in the foreseeable future.
House prices
The minutes from the RBA's February policy meeting restate that the strength of Australia's housing market, particularly in Sydney, remains an area of concern. However, while the threat of a housing bubble may limit the RBA's scope to lower interest rates, the bank can use macro prudential tools in order to quash demand in the housing market.
AUDUSD
AUDUSD jumped all over the place after the release of the RBA's meeting minutes. The initial reaction of the market was to dump AUD as the RBA confirmed that it is in a more dovish stance, but the bank failed to hint at the possibility of another interest rate cut which sent AUDUSD flying to a resistance zone around 0.7790. While the near-term impact of the minutes may be positive for AUD, we don't expect them to materially affect the pair in the long-run.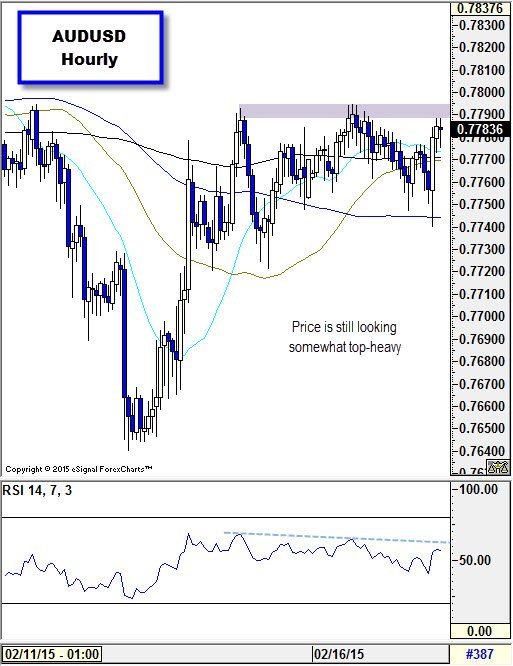 Source: FOREX.com