Schadenfreude – The feeling of enjoyment that comes from seeing or hearing about the troubles of other people.
As we survey the landscape of the currency market in early North American trade, Schadenfreude is the only way we can describe the reaction of the EUR after yesterday's failure to come to an agreement at the Eurogroup meeting.  While it may be true that Greece has until the end of the month to figure out what they can or will do, the recent rally in the EUR across most currencies almost appears to be laughing at the misfortune of the struggling nation.  Meanwhile, other markets are acting more accordingly as WTI is falling, but remaining in its range, equities are remaining calm, and the USD is up against almost everything else.
The muddied waters aren't getting any clearer when it comes to Greece either as Greek Prime Minister Alexis Tsipras has said that the initial communique from the Eurogroup meeting was acceptable, but changes made toward the end of the meeting forced them to reject it.  This could indicate that Eurogroup members are hardening their stance toward Greece and may be resigned to a Grexit and then deal with the consequences afterward.  As a result, there are some reports that Greek banks are quickly running out of capital as citizens begin to prepare for a worst case scenario situation like the Cyprus bank bail-in of 2013.
One currency pair in particular that is exuding this painful rally is the EUR/GBP.  Inflationary figures out of the UK this morning weren't making anyone feel too confident, but the Bank of England has already stated that they believe low inflation is going to be a temporary result of lower oil costs.  Looking at the Core CPI this morning, it would seem that belief is bearing out as it rose 1.4% YoY; more than the 1.3% anticipated.  The EUR Schadenfreude and the GBP knee-jerk reaction to inflation boosted the pair up to a recently established declining trend line, which could open the door to a rejection from that level.  If news continues to be dire out of Greece, bailing on the EUR may become more prevalent as the week comes to a close.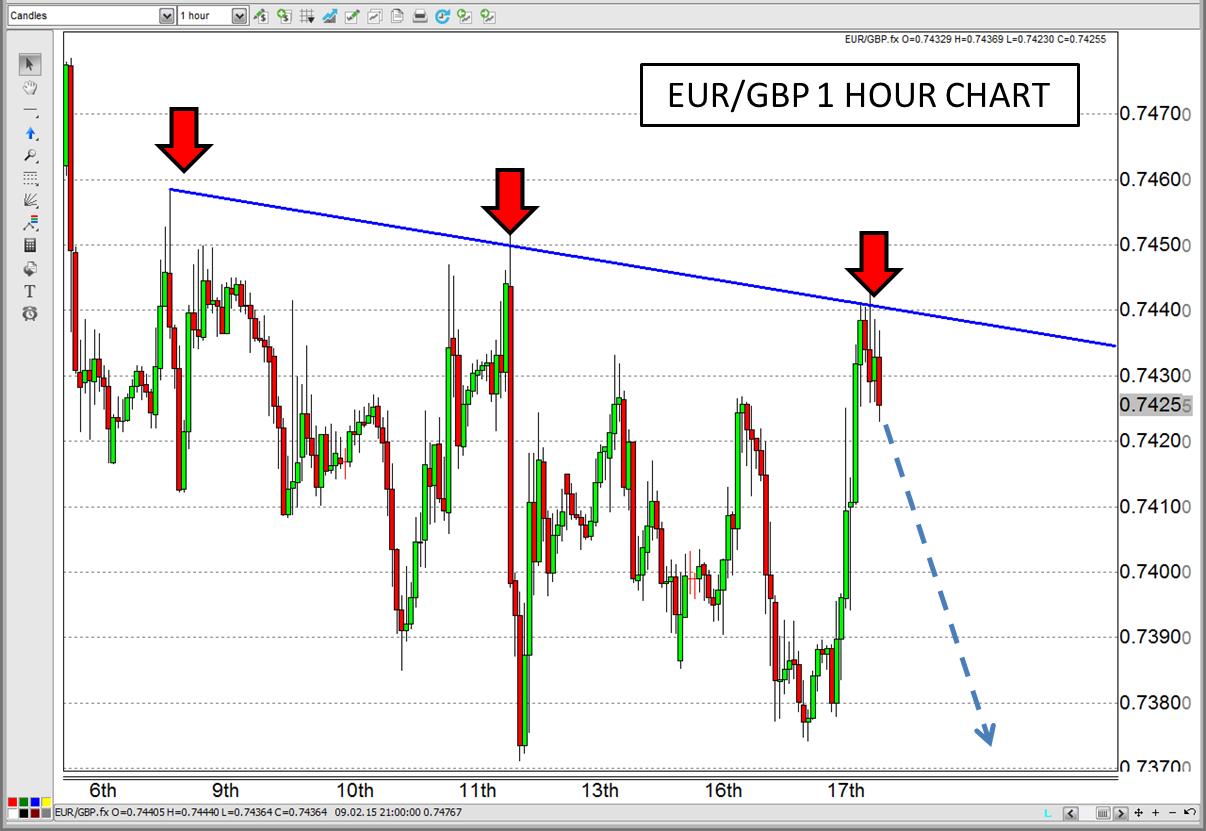 For more intraday analysis and trade ideas, follow me on twitter (@FXexaminer ).