The ubiquitous idiom "once bitten, twice shy" was apparently first recorded back in 1894, but in the minds of FX traders, the phrase gained a new relevance on January 16th, when the Swiss National Bank shocked the market by dropping its long-maintained floor in EURCHF. The Swiss franc surged an unheard-of 25-30% in the next hour, "biting" many traders who had been betting on the franc remaining weak.
Though traders are now "twice shy," about trading EURCHF, the pair has formed a clear bullish technical pattern over the last two weeks that may draw in reticent traders. After peaking at 1.0640 earlier this month, the pair pulled back to 1.0400, failed again at 1.0640, found support in the mid-1.0500s, and thus far today, has finally overcome resistance at the 1.0640 level. In other words, EURCHF has broken out from a crystal-clear cup-and-handle pattern. The secondary indicators further bolster the bullish case, with the 4hr MACD crossing back above its signal line (and still holding above the "0" level), while the RSI is holding in bullish territory, but not yet overbought.
Given the major technical breakout, EURCHF could extend its gains in the coming days. From a Fibonacci perspective, the next major level of resistance is the 50% retracement of the entire post-SNB drop at 1.0860; conveniently, this level also approximates the measure move projection of the maximum height of the cup-and-handle pattern at 1.0870. Therefore, as long as EURCHF holds above its near-term bullish trend line (currently near 1.0580), the path of least resistance will remain higher for EURCHF.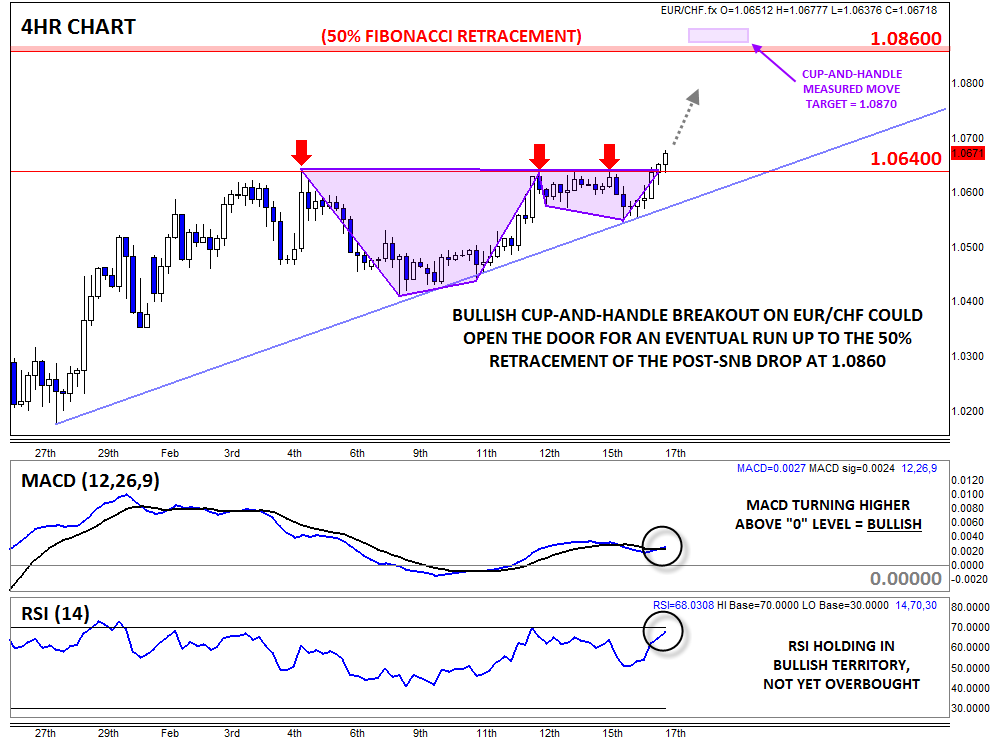 Source: FOREX.com
For more intraday analysis and market updates, follow us on twitter (@MWellerFX and @FOREXcom)