Since January 15th of this year, when the Swiss National Bank made the notorious decision to pull out the rug on their self-imposed 1.20 floor in the EUR/CHF, there has been one relatively consistent pattern that has developed across all CHF currency pairs; they are all gradually clawing their way back.  My colleague Matt Weller highlighted one such scenario earlier today in the dreaded EUR/CHF, which has carved out a bullish cup and handle pattern. 
Even the SNB is trying to help this gradual move by issuing threats to intervene in the market if they deem it necessary.  In a speech today SNB President Thomas Jordan remarked that his institution will be "active in the foreign exchange market, should this prove necessary in order to influence monetary conditions."  And since Jordan and his subordinates believe that the CHF is overvalued "significantly" they won't hesitate to intervene when they see fit.
While normally, when a central bank says they want their currency to head in a certain direction, the trading world pays attention; but this is where the SNB has put most of the investing public in a bit of a Catch-22.  They have already burned that bridge of trust by allowing the floor to fall in the first place, so hesitation and second-guessing the SNB's word is becoming the default setting; as the old saying goes… "Once bitten, twice shy."
Despite the hard feelings when it comes to the SNB, sometimes we have to have a short memory,  move on, and just go with the current situation.  One CHF pair that has gotten back some of its mojo is the USD/CHF.  Since falling all the way from 1.02 down to 0.84 on that fateful day, it has gradually and consistently climbed higher.  More recently, it has begun following a rising channel that is illustrated with an Andrew's Pitchfork in Figure 1.  Though it is currently in the lower half of the channel, more talk and potential action from the SNB could help it ascend to the higher half.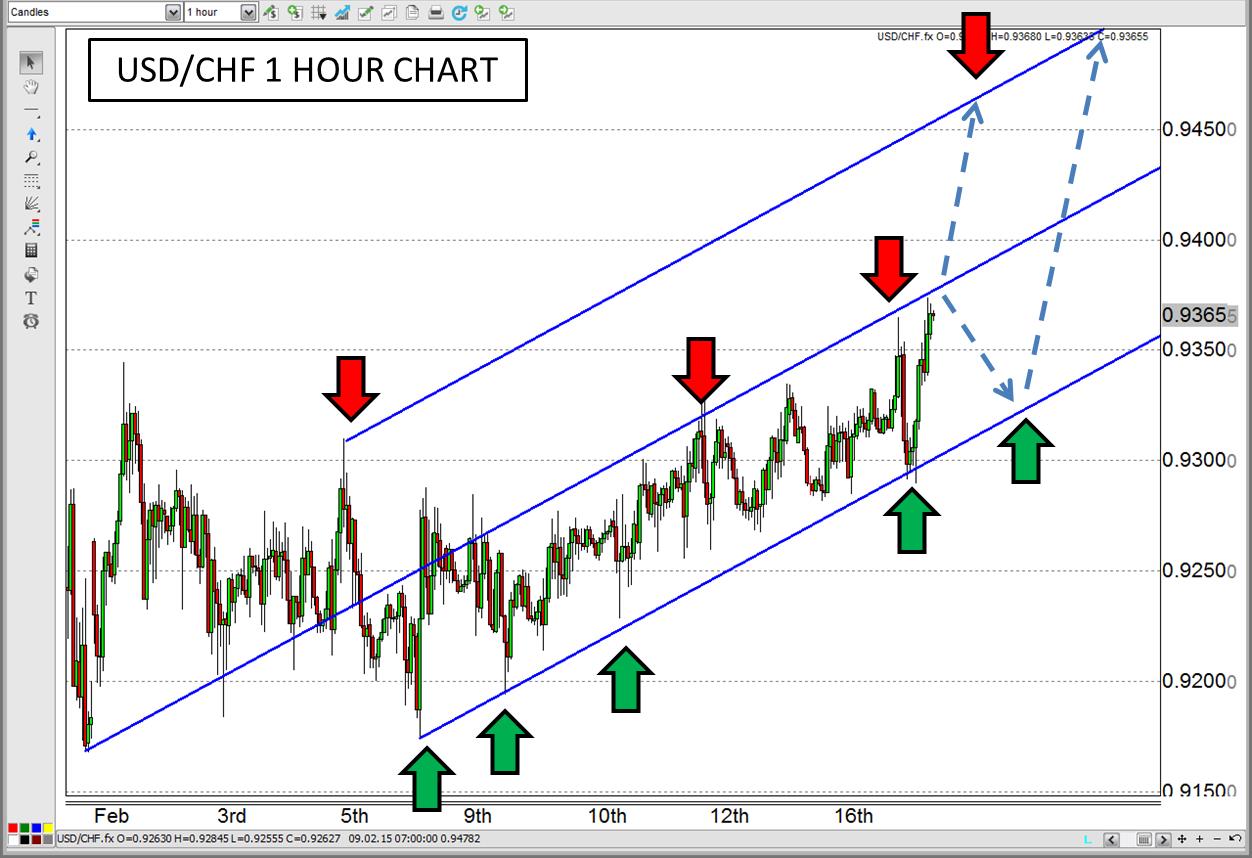 For more intraday analysis and trade ideas, follow me on twitter (@FXexaminer ).