Earlier this week Japan released its GDP numbers for last quarter and they came as a shock to many market commentators. The Japanese economy grew a disappointing 2.2% on an annualised basis last quarter, completely missing an expected 3.7% annualised growth rate. This technically means that the recession is over in Japan, but the inner workings of the report also highlight that there are lot of challenges ahead for Japan.
However, the market as a whole was largely able to brush off these figures as it's generally believed that they wouldn't materially change the BoJ's wait-and-see mindset. PM Abe added weighted to this view on Monday by highlighting that the growth figures show that the country is heading in the right direction and there are signs of life in the economy. He admitted that the decision to hike the sales tax last year has materially hurt consumer spending, but he doesn't seem overly concerned about this.
We think that Kuroda and his cohorts at the BoJ will largely agree with Abe's assessment of the economy; partly because they need to have faith in their massive QQE program and partly because there are some signs of life in the economy. As we have repeatedly stressed the key ingredient missing from a sustained economy recovery in Japan is wage growth – without wage increases there is going to be a continued lack of activity at the ground level in Japan; making any sustained economic recovery impossible. The good news is that we have seen some encouraging signs from the labour market in recent months and Abe is really pushing for companies to raise wages.
Not the time to rock the boat
Overall, there is enough evidence that to suggest that the BoJ will mostly likely maintain the status quo. This will include the usual commitment from the bank to do whatever is needed to reach its inflation target; it may also include a warning about the negative effects of an exchange rate that is too weak. There's comes a point where the positive effects of a weaker yen for Japan's export market may be outweighed by the negative implications for Japan's small-medium sized corporations.
Market reaction
Given that we aren't expecting the bank to surprise the market the reaction of the yen may be fairly limited to this meeting (we are expecting an announcement around 0230GMT-0400GMT). At present USDJPY is consolidating some of its overnight gains after rebounding off a resistance zone around 119.40. We are waiting to see if the pair can maintain a break of its 50% retracement level from a recent a recent high around 120.50 (see chart).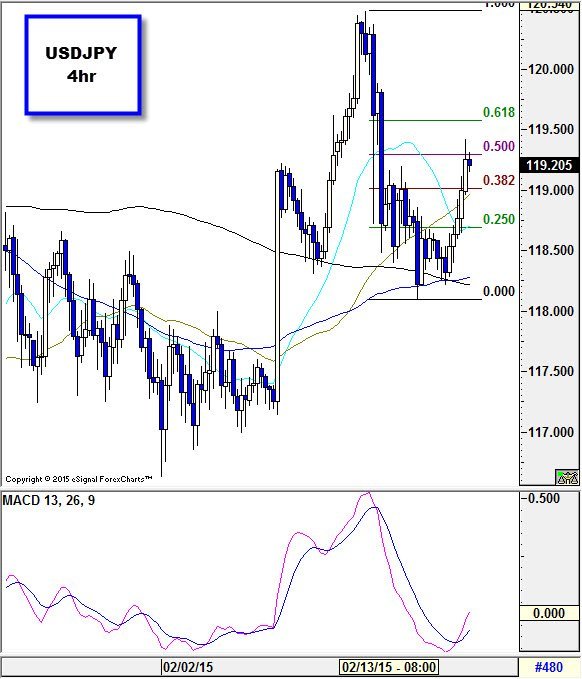 Source: FOREX.com