The BoJ maintained its aggressive monetary policy stance at its most recent policy meeting, pledging to retain its plan to increase the monetary base by 80 trillion yen annually. The statement issued by the bank was fairly upbeat, including an upward revision to its view on exports and production, despite the release of disappointing GDP numbers on Monday.
As we highlighted on Monday, Japan's economy grew a disappointing 2.2% on an annualised basis last quarter, completely missing an expected 3.7% annualised growth rate. This technically means that the recession is over in Japan, but the inner working of the report also highlight that there're a lot of challenges ahead for Japan. Corporate and consumer spending remain subdued and the only real bright spot was the export sector. It's clear that a weaker yen is materially helping Japanese exports which are, in turn, fuelling the economic recovery. Net overseas demand for Japanese goods tacked on 0.2% to growth and looks set to be a major contributor in coming quarters.
With growth heading in the right direction and the economy emerging from a technical recession, it was widely expected that the BoJ would retain the status quo. Also, the bank is facing mounting criticism about the negative implications of a weaker yen on the economy. As we have already shown, a softer exchange rate is supporting Japan's all-important export sector, but it's also pushing up import prices and weakening consumer sentiment.
Market reaction
USDJPY immediately shot lower on the back of today's statement from the BoJ. The pair initially dropped below 119.00, before pushing back above this level shortly thereafter. At the time of writing USDJPY is still mildly lower than pre-statement levels. The market is now asking itself, are we seeing the final shoulder being formed of a medium-term bearish H&S pattern? If so, we would need to see a break of the neckline – currently around 118.00 – before becoming too bearish.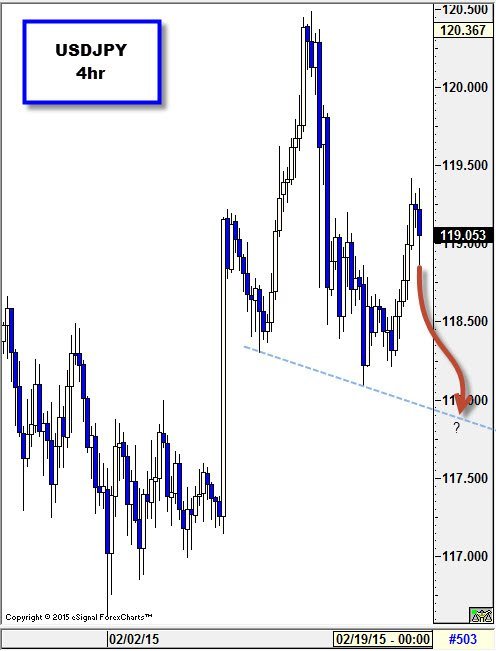 Source: FOREX.com