…but the lack of follow-through so far is a concern.
After almost two years of trying, the FTSE 100 has finally taken out the major resistance at 6900. This will be a massive blow for the bears who must have concluded that the on-going situations in Greece, Ukraine and the MENA regions, combined with the weaker oil prices, among other factors, would weigh the commodity-heavy FTSE down. The problem is that for these exact reasons, some of the potential buyers are probably holding fire too, hence we haven't seen any fireworks with the FTSE managing to print a high so for of just 6920 on the session. It could be that the bullish speculators are waiting for the index to take out the previous record high of 6950 it had reached back in 1999, before jumping on the bandwagon.  Of course, this could turn out to be a false breakout, for after all it is not the first time the FTSE has peaked above 6900 only to then stage a sell-off. One way or the other, we will hopefully have a very clear picture in terms of the FTSE's near-term technical direction by the end of today's session: a decisive close above 6900 would be a particularly bullish outcome while below this key level would be bearish. We think it is as simple as that, in this case.
Unlike the last attempts, this time the breakout feels and looks different. The tight consolidation below this major hurdle over the past several weeks suggest the index has been gearing up for a big breakout.  And zooming out a little, one could see that in these past two or so years that the FTSE has held below 6900, it has made incremental higher lows, and is now making higher highs; these are characteristics of a bull market. If the FTSE does push higher as the technicals suggest, then it may make a move towards the Fibonacci extensions levels shown on the charts. The first such level, which converges with the previous record high of 6950, is the 127.2% extension of the downswing from point C to point D. The more important 127.2% extension of the entire move in 2014 comes in at 7130/5, followed by some more extension levels slightly ahead. There is also the psychological level of 7000 to keep an eye on.
In case this breakout proves to be another false one, then things could get a little messy for the bulls if Tuesday's low of 6815 is taken out. As that particular candlestick was a bullish engulfing pattern, it is likely that large numbers of stop loss orders are sitting just below it. Thus if these get triggered then the index may at least drop to the next line of support at 6750, before deciding on its next move.
Figure 1: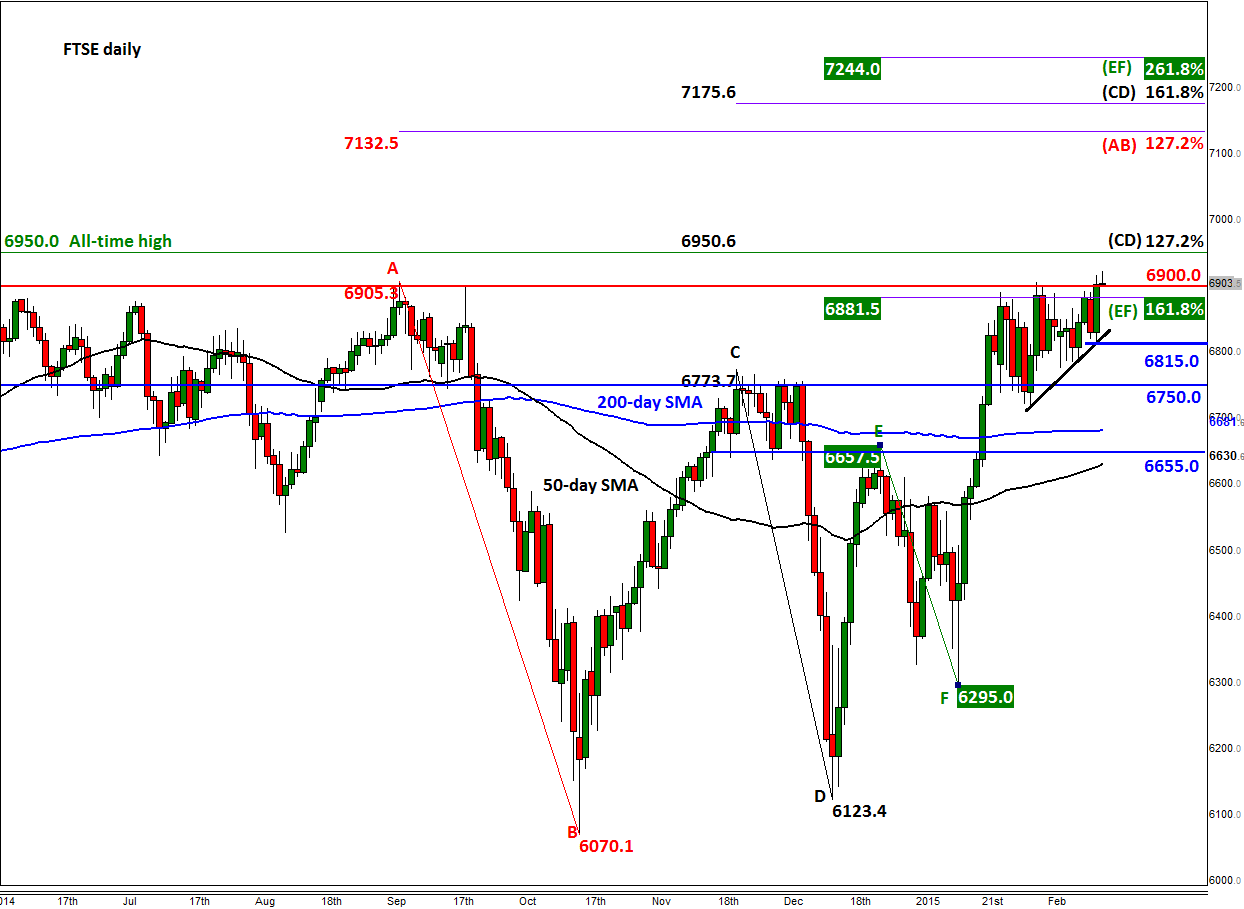 Figure 2: