Japan's trade numbers highlight that exports are still the backbone of the country's economic recovery. Exports surged an impressive 17% y/y but this couldn't prevent Japan's 31st consecutive monthly trade deficit (January trade balance -1,177.5bn – exp. -1,681.3bn). Meanwhile, imports fell 9.0% y/y on the back of falling fuel prices.
The strong performance of the export market is largely due to a weaker yen and strong demand for Japanese electronics. However, Japanese exports may come under threat if we continue to see sub-par economic growth in the global economy, which would severely hamper the nation's economic recovery.
While we are seeing some signs of life outside of the tradeables sector, domestic demand and consumer sentiment remains subdued. And, until domestic demand is in a position to do some of the heavy lifting, the weight of Japan's economic recovery largely rests on the export sector. This is why BoJ Governor Kuroda has been vocal about the benefits of a softer exchange rate and is likely a significant factor in the bank's decision to engage in extreme monetary policy loosening.
One to watch: AUDJPY
As we pointed out last week, it may be up to the Australian dollar to save AUDJPY. Earlier this week the release of the RBA's minutes from its policy meeting earlier this month provided AUDJPY with a much needed injection of life, but the pair remains trapped in a long-term downward trend and upside momentum is fading.
The top of AUDJPY's long-term trading channel will be a big test for price; a break could encourage a more prolonged technical rally, while a failure could see another sharp sell-off. On balance, we tend to favour a period of prolonged mild technical weakness, at least over the long-term. In saying that, AUDJPY is very sensitive to changes in risk sentiment, thus a resolution of the Grexit-crisis may encourage more bulls to join the rally.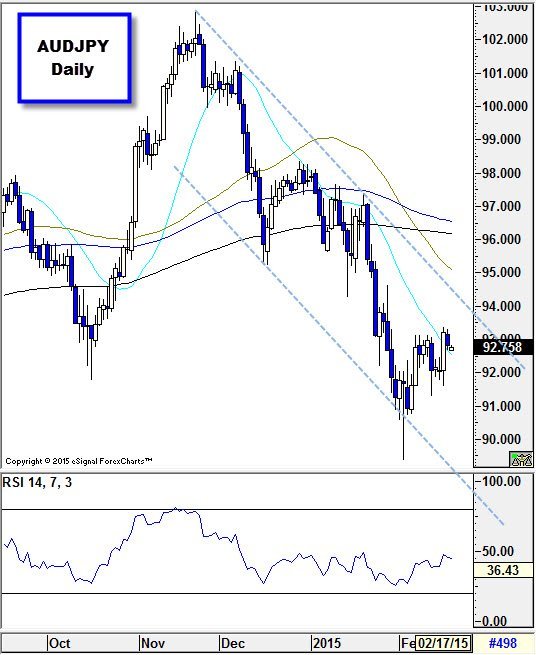 Source: FOREX.com