The Australian dollar was sold off heavily late in the Asia session as The Wall Street Journal quoted an analyst from S&P as saying "if there is a significant external shock, it's very likely that that would have a significant budget impact like it did in the global financial crisis". This spooked AUD and it was immediately assaulted by sellers, despite the fact that the same analyst said that Australia's relatively low government debt means that there's no immediate threat to its AAA rating.
Will the sell-off last?
AUDNZD is now hovering around its all-time low, as we predicted it might in a report on the pair last week. However, we're unsure about the underpinnings of this latest bout of AUD weakness and there were some disappointing PPI numbers from NZ today (PPI input and output fell 0.4% and 0.1% respectively). This combination may help to spur a retracement in AUDNZD in the near-term but it's hard to make this call when price is in completely uncharted territory.
The techs: AUDNZD
From a technical standpoint, AUDNZD is giving off mixed signals. There is bullish divergence between price and RSI on a monthly chart and the pair is looking somewhat oversold on shorter timeframes. However, we are maintaining our long-term bearish view which may see AUDNZD test an all-important psychological support zone around parity. This is supported by a bearish flag formation if price closes around current levels.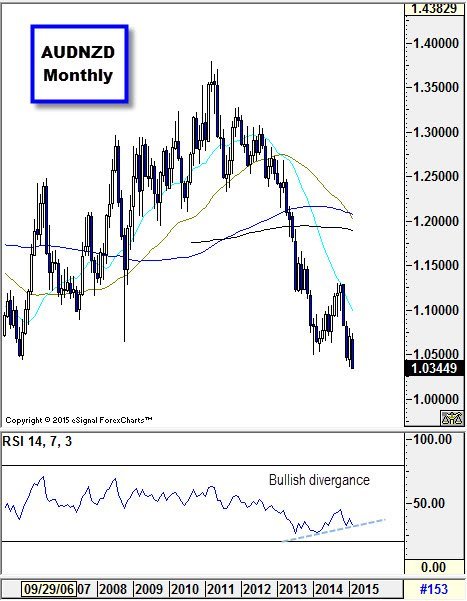 Source: FOREX.com