For the most part, global markets are consolidating within their recent ranges after yesterday's less-hawkish-than-expected FOMC minutes. While these types of markets don't necessarily offer heart-pounding trade opportunities in the short term, they do allow time to for traders to take a step back and prepare for the inevitable breakouts, whether its later this week or early next week.
One market that's primed for a major breakout sooner rather than later is WTI, which has been trapped between a rock and a hard place on a technical basis for nearly three weeks now. To the topside, the US oil contract has consistently found resistance at 54.00, forming a potential triple top pattern at the level already this month. However, the pair has also found consistent support on the downside at the 20-day moving average (approximated by the 120-period moving average in the chart below).
For as long as this range remains intact, short-term traders may want to keep a close eye on the Slow Stochastics indicator, which in combination with the price action, has done an effective job of signaling near-term tops (when the Slow Stochastics rises to 80) and bottoms (when the indicator drops to 20) over the last few weeks. Though there is no guarantee this pattern will continue to repeat, it may help short-term traders take advantage while the generally sideways price action continues.
On the other hand, many traders would no doubt prefer to wait a breakout and another high volatility move. For those traders, a daily close above the key 54.00 could open the door for a move up to previous resistance at 58.50 next, while a daily close below 48.50 could foreshadow an eventual return to the six-year lows at 44.00. Either way, WTI is still offering trade opportunities despite the slower market conditions.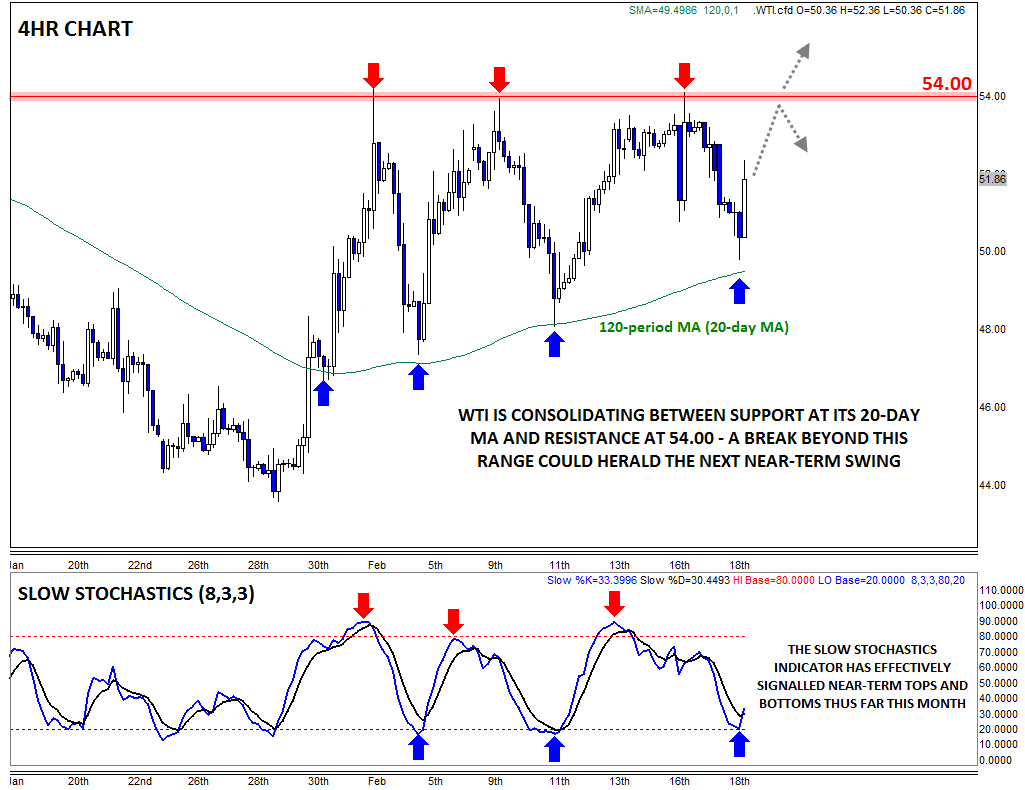 Source: FOREX.com
For more intraday analysis and market updates, follow us on twitter (@MWellerFX and @FOREXcom)