The second half of the North American trading session was a bit lackluster as investors are awaiting the outcome of the Greek tragedy that is playing out in Europe.  The latest development is an explanation from Germany as to why they decided to reject Greece's proposed six month extension to their current bailout.  Germany's main contention was that the Greek proposal, "is not clear at all, but opens immense room for interpretation."  They say in order to move forward, they want three things:  1. Verify that the extension plan is sound, 2. Secure a clear and convincing commitment from Greece, and 3. Make Greece publicly confirm they won't introduce measures to kick the can down the road further.  In other words, Germany is getting a little tired of this dance, and they want something more concrete.  How Greece responds will be a topic for the next euro freak-out, coming to a trading platform near you.
In response to the tough love from Germany, markets have been biding their time as just about everyone is a veteran of European political and fiscal intrigue by now.  The EUR/USD has been straddling 1.14 for about a week, and it likely won't make a significant move in either direction until something is done definitively.  The EUR/USD's usual mirror image, the USD/CHF, hasn't been much of one since the Swiss National Bank dropped their 1.20 floor in the EUR/CHF.  In fact, it has been trending higher for most of February; however, it is approaching a very interesting level of resistance that could cause the surge to take a breath.
A couple of days ago, I had mentioned this rising trend with the title of "Just Go With It?", but when a trend reaches the top of its channel, it may be time to look for a pullback.  Coinciding with the channel topping is the 50% Fibonacci retracement of the pre-SNB action high to the post-SNB action low; not to mention that it is also a psychological round number level of resistance.  If these three resistance points exert their influence, there may be at least a drop back to the midpoint of the Andrew's Pitchfork in Figure 1, and maybe even the bottom of it if things start to look a little more rosy for Greece ahead of the weekend.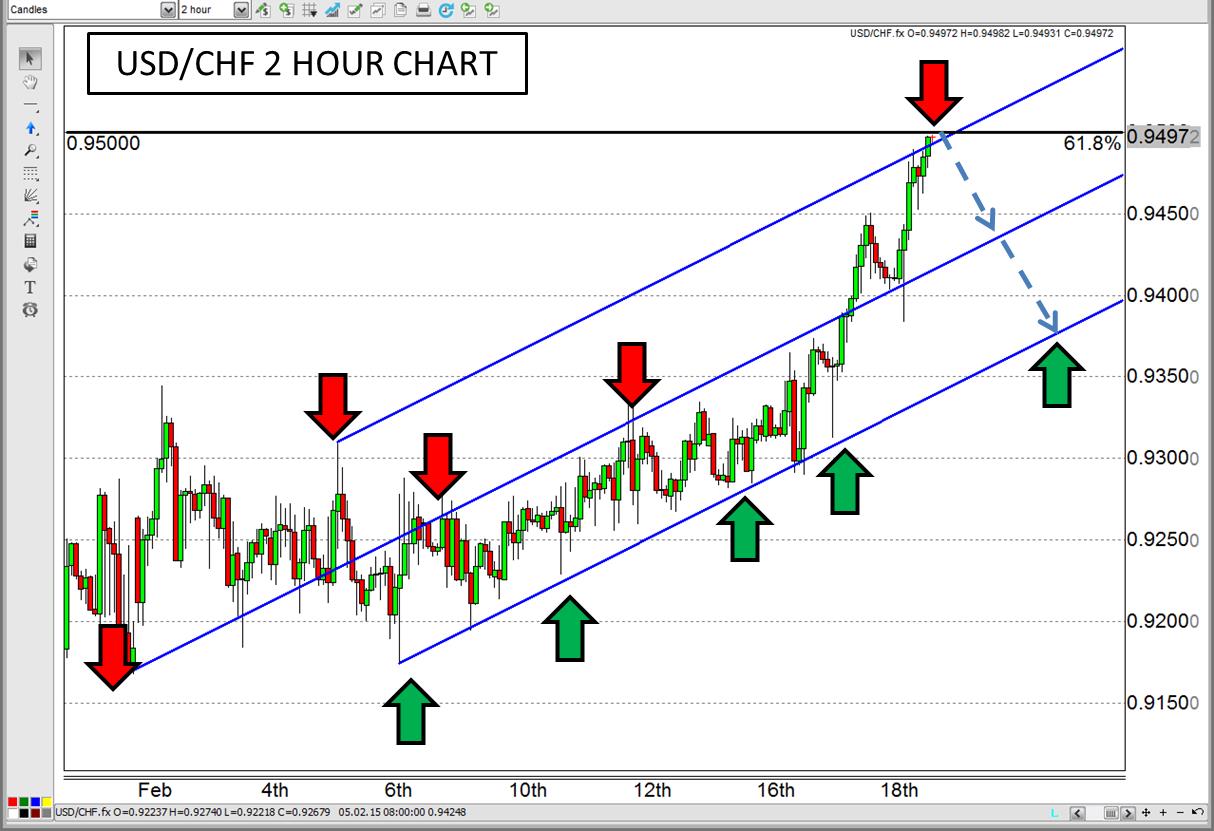 For more intraday analysis and trade ideas, follow me on twitter (@FXexaminer ).