It has been a very quiet Asia session so far, with no headline data being released or any major market moving events. This has resulted in most of the majors flatlining the first half of the session, although JPY was weakened slightly by comments from BoJ Governor Kuroda that the BoJ can realise its 2% price target and there are no particular problems with BoJ easing.
In this kind of trading environment it's sometimes useful to take a step back and have a look at some lesser traded pairs. One such pair is EURNZD; this month's sell-off has brought price to a key support level just above 1.5000. This entire zone has proven to be a pivotal point in price action in the past.
So, which way is pricing going to go?
It can be unwise to fight against a prevailing trend; doing so assumes you can accurately predict where price will top/bottom-out. This is obviously a very hard thing to do and trading with a trend is generally a much more consistent way to trade.
However, we are looking for a short-term technical rally in EURNZD which wouldn't jeopardise its overall downtrend. There is a bullish divergence between price and RSI which can indicate that momentum is shifting to the upside; in the short-term in this case.
Eyes on Europe
We aren't expecting any surprises from NZ today but we are keeping a close eye on events in Europe. Tonight there is another meeting of eurozone finance ministers to discuss the Greek situation. Germany has said it will reject the deal proposed by Athens in its current form, so it will be interesting to see what comes from these talks. This will of course be a key event from the euro as Greece's government is expected to run out of funding as soon as next month. If a deal is reached we expect to see a big rally in the common currency.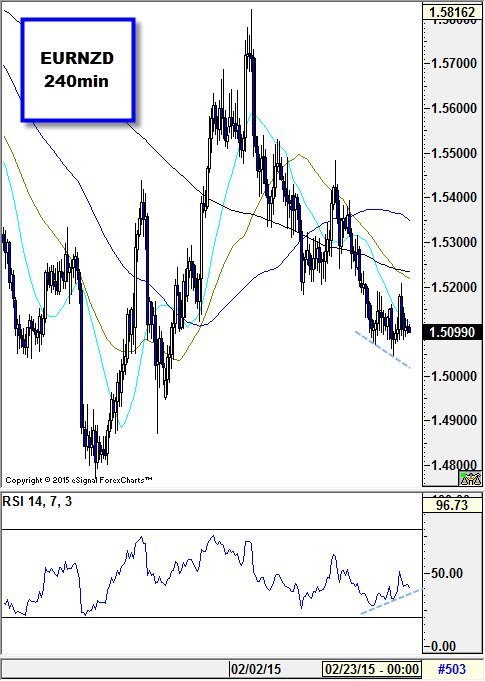 Source: FOREX.com