As they have been all week, traders are hyper-focused on the latest headlines out of Greece. The latest news is the announcement of a 4-month extension to the bailout, potentially enabling both sides of the debate to claim victory to their stakeholders. Hopefully, this agreement will lead to a less headline-driven market next week, but for traders who are sick of chasing the market's bipolar oscillations around every EU policymaker's comment, it can help to venture a bit further afield from just the EURUSD.
One pair that's offering a clear technical setup is AUDNZD. The antipodean pair ticked down to a new all-time low yesterday, prompting many traders to turn their focus down to the psychologically significant parity (1.00) level, but the notoriously fickle pair had other ideas. Rates rallied sharply off the lows through yesterday's European and North American sessions to finish the day back above previous support at 1.0350. This price action created a clear Bullish Pin*, or Hammer, candle on the daily chart, suggesting that the near-term momentum has shifted back in favor of the Aussie. Accompanying the bullish candlestick pattern, the pair is also exhibiting a clear bullish divergence with the 14-period RSI indicator. This shows waning selling pressure on yesterday's dip below 1.0350 and suggests that a continued bounce is likely next week.
Given the failed breakdown, bullish candlestick pattern, and bullish divergence, a recovery rally toward the 38.2% Fibonacci retracement at 1.0490 could be in the cards next week. If rates can clear that hurdle, an extension toward the 20-day MA at 1.0525 or the 61.8% Fibonacci retracement at 1.0605 is possible. At this point, only a break below this week's low at 1.0300 would tilt the odds back in the bears' favor.
* A Bullish Pin (Pinnochio) candle, also known as a hammer or paper umbrella, is formed when prices fall within the candle before buyers step in and push prices back up to close near the open. It suggests the potential for a bullish continuation if the high of the candle is broken.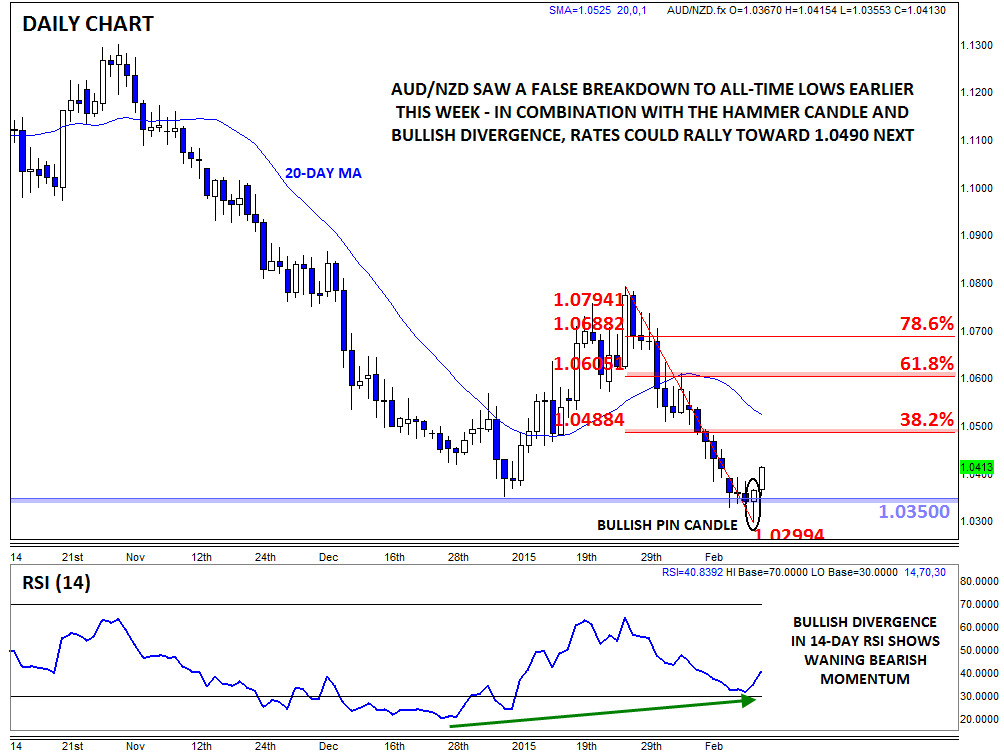 Source: FOREX.com
For more intraday analysis and market updates, follow us on twitter (@MWellerFX and @FOREXcom)