As many would have guessed heading in to the last trading day of the week in North America, market action was held hostage to the machinations of Greek and German rejections, rebuttals, misappropriations, and premature announcements.  The game theory aspect of the whole situation was next level as Germany was first labeled as not caring whether Greece stays or goes by Malta (really…Malta!?), then the Greeks claiming they gave the wrong proposal to the Eurogroup, and then Greece claiming that it appeared an agreement had been reached, which was then rejected by various sources.  In my head, all I could imagine was a Benny Hill-like sketch with people chasing a guy around a table holding a paper all while Yakety-Saks was playing in the background.
The only difference between those classic Benny Hill sketches and the Eurogroup meeting was that the Eurogroup held the fortunes of countless millions in their hands as the EUR/USD whipsawed every which way.  Amazingly though, the EUR/USD has been trapped in a relatively tight range for most of February as traders haven't had the insight in to whether this whole deal will come to fruition or not.  Over the past few years we have grown accustomed to Greece having one foot out the door, only to be pulled back in at the last moment; so it's only natural to believe the same will happen this time around.  For that reason, the EUR has been much more resilient than many would have guessed.
Even in the late hours of North American trade, the Eurogroup has announced that the deal is indeed agreed upon, but instead of a 6 month extension, it will only be a 4 month extension.  Other than the extension, Greece must submit a list of reforms to the Troika on Monday which will be reviewed on Tuesday.  Most likely, since they are having the press conference today, it will likely be rubber stamped.  So I hope everyone is ready to do this again in another couple months because essentially, they just kicked the can down the road once again.
Perhaps realizing that this is just a delay to the Greek crisis, traders haven't been buying in to the EUR/USD; it's still stuck in its range.  If traders begin reacting as they did before this whole thing came to head the last couple weeks, the EUR/USD could potentially break lower once again -- but that may not occur until early next week when final confirmation is had by the Troika.  Therefore, EUR/USD could be stuck in the triangle it has carved out with ever lower highs and a bottom near 1.1270.  As with any triangle pattern, a break either above or below it could trigger a larger move, so proceed with caution, particularly ahead of the weekend.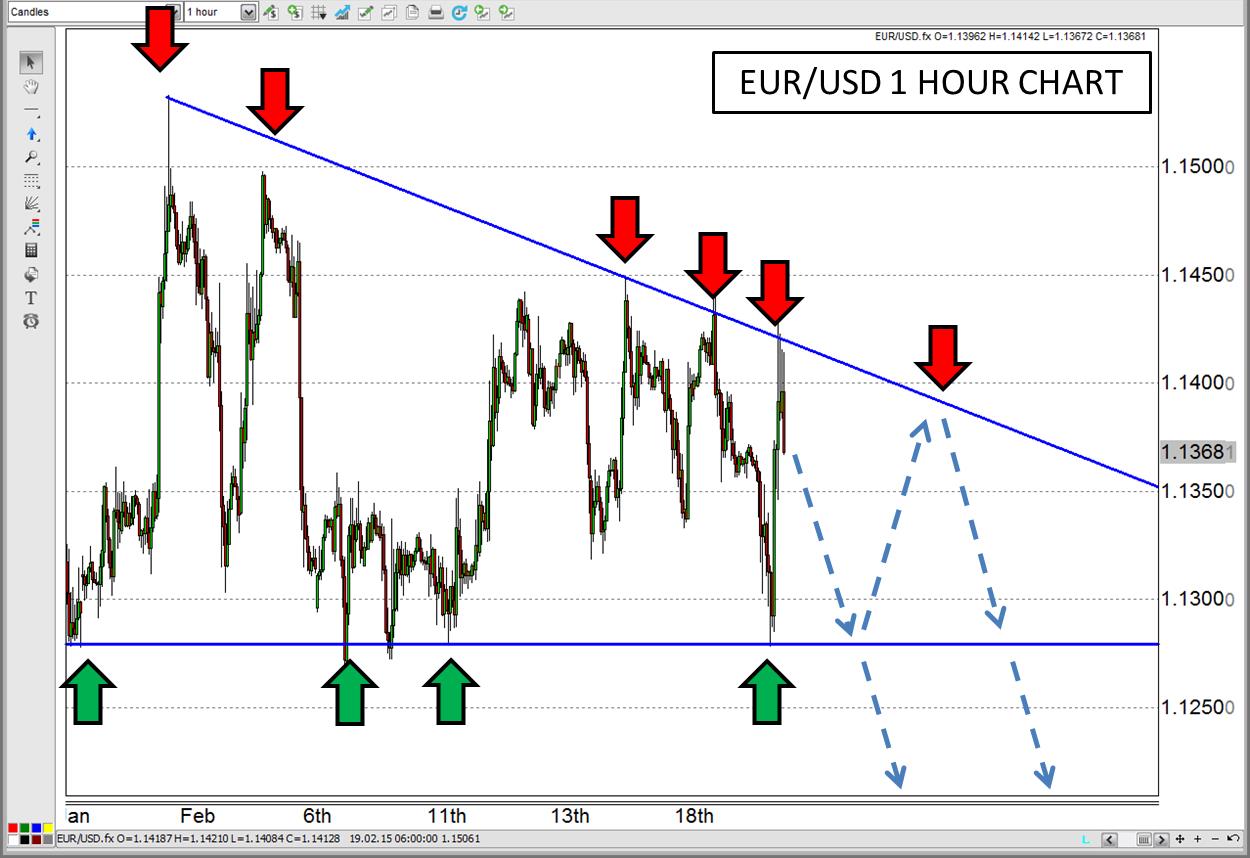 For more intraday analysis and trade ideas, follow me on twitter (@FXexaminer ).