It has been a fairly quiet start to the week for AUDUSD as the pair tests a key short-term resistance zone around 0.7850. A lack of potential headline making announcements and low volume (China's offline) during the Asia session may keep AUDUSD pinned below this level for now. In fact, some technical indicators are suggesting that price may begin to drift lower. This potential scenario would be negated if price breaks 0.7850/80.
On the downside we are watching:
• Trend line support – see chart
• 200-month SMA – currently around 0.7800
• 200-hour SMA – currently around 0.7775
• Lows around 0.7635-45
On the fundamental side, investors should be keeping a close eye on Greece; as early as this morning there reports from Greece's finance minister, Varoufakis, saying that the reform list is almost ready (the country is attempting to produce a list of reforms that will satisfy its international creditors). Tonight the reforms will be evaluated by the European Commission, European Central Bank and International Monetary Fund (combined these three are known as the troika), and if they don't approve then Euro finance ministers will meet again tomorrow. While the situation in Europe has more of a direct impact on the euro, it's very important to overall investor sentiment.
Locally, we aren't expecting much in the beginning of the week from Australia, but this will all change on Wednesday with the release of wage price and construction figures – the former is more important in our opinion. Perhaps the most important price of data this week from down under will be the release of CAPEX figures on Thursday; the market is keen to garner more information regarding Australia's attempted transition away from being heavily reliant on mining investment for growth. In other words, not only do we want to see somewhat strong mining investment intentions, but also evidence than non-resource investment is expected to increase significantly. It's also worth noting that HSBC's private sector reading of manufacturing PMI will be released on Wednesday.
USD data/event watch
• CB Consumer Confidence and existing home sales numbers on Tuesday
• Feb Chair Yellen testifies to a Senate banking panel on Tuesday and to a financial services committee on Wednesday
• New home sales figures on Wednesday
• Inflation and employment data on Thursday
• Fed's Fisher and Lockhart both talk on Thursday
• Growth numbers on Friday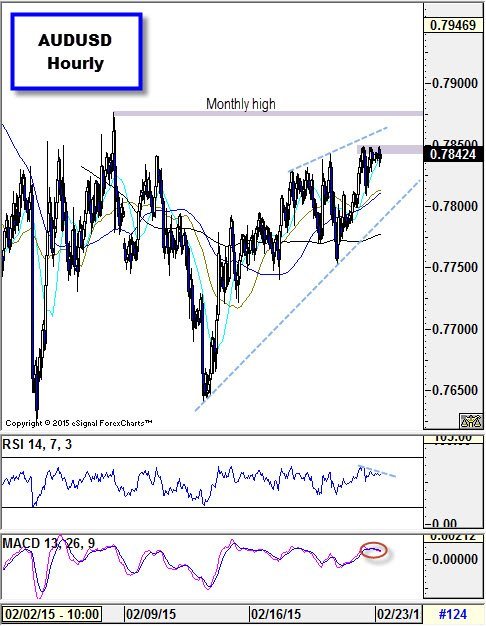 Source: FOREX.com