At the end of last week EUR bulls were encouraged by news that Greece may receive a four-month extension of its bailout. This comes after weeks of wrangling between Greece's new government and its international lenders.
The country is attempting to produce a list of reforms that will satisfy its international creditors, and this morning there reports from Greece's finance minister, Varoufakis, saying that the reform list is almost ready. Tonight the reforms will be evaluated by the European Commission, European Central Bank and International Monetary Fund (combined these three are known as the troika), and if they don't approve then Euro finance ministers will meet again tomorrow.
If all parties can agree we expect to see further EUR strength, while a further delay may hit euro hard (Saturday is the deadline); the key will be whether any possible strength will be enough to break EURUSD out of its narrow short-term wedge formation. In any event, it looks like any deal at this stage will be seen as more of a win for Greece's creditors, than Greece's Syriza-led government.
As far as AUD is concerned, we are keeping out eye on a few key events for the commodity currency later this week. We outlined the major events and data releases this morning: Wednesday sees the release of wage price and construction figures – the former is more significant in our opinion. Perhaps the most important price of data this week from down under will be the release of CAPEX figures on Thursday; the market is keen to garner more information regarding Australia's attempted transition away from being heavily reliant on mining investment for growth. In other words, not only do we want to see somewhat strong mining investment intentions, but also evidence than non-resource investment is expected to increase significantly. It's also worth noting that HSBC's private sector reading of manufacturing PMI will be released on Wednesday.
From a technical standpoint, there are mixed signs which suggest that EURAUD could head in either direction in the near-term – some momentum indicators are shifting to the downside but there's a bullish hammer candlestick formation. As such, we are watching for a break from its current downward wedge formation. On the downside, we're also watching the pair's 200-day SMA (see chart); a sustained break would likely see bears overpower bulls.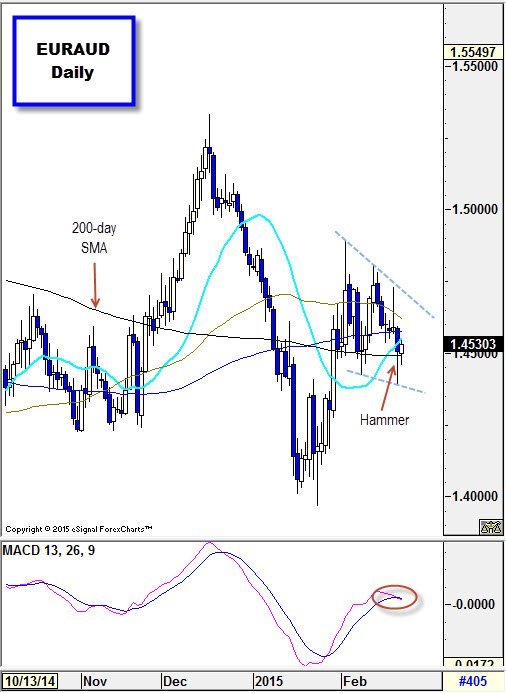 Source: FOREX.com