The start to the North American trading session has been generally viewed as positive thus far as there haven't been any major hiccups heading in to it.  The scheduled delivery of Greece's proposal to the Troika appears as if it is moving according to plan, and unless there is some sort of surprise tossed in to the mix, the market could continue to view this as a positive development.  Due to the guarded feeling many investors feel about Greek negotiations though, the euro isn't enjoying the fruits of that labor as it has retreated toward the bottom of the triangle pattern I highlighted late last week.
On the economic news front, there hasn't been too much to point toward.  The Chinese New Year celebration continues to dampen activity in Asia while Greece is enjoying a bank holiday.  The only news releases of importance were the German IFO Confidence figures, which were broadly in-line with predictions, and UK Distributive Trades Survey, which had the worst result since late 2013.  If combined with last week's disappointing UK Retail Sales, the Trades Survey continues a concerning trend among UK consumers, and the GBP might start feeling that pressure.  As of this writing though, the GBP/USD continues to find a bid as it has surged above 1.54.
In the US, the only releases to report were the Chicago Fed National Activity Index which increased to 0.13 (a good thing), and Existing Home Sales which dropped 4.9% (a bad thing).  Despite the less than stellar release from the housing sector, the USD hasn't been taking it on the chin.  In fact, post the Existing Home Sales release, the major USD pairs barely moved as much of the decline could be attributed to temperatures that have been extremely low along with incredible amounts of snowfall in the eastern half of the country.  Especially considering we are all now veterans of Frozenomics after last year's Polar Vortex, the lack of major action after such a big miss isn't too surprising.
The resilience of the USD in the face of harsh economic releases could also be linked to the strength of the USD in general as well.  The NZD/USD in particular has seen some strength over the last couple weeks, but has recently found some resistance in the 0.7550/0.7575 region.  The resistance in that area has carved out a head and shoulder's pattern that has turned the pair lower, but it has rallied back up to the neckline of that pattern this morning.  The neckline also corresponds to the 78.6% Fibonacci retracement of the recent high to low, which could provide additional resistance.  If these forces combine, the NZD/USD could be making another turn lower heading in to Inflation Expectations out of the Kiwi nation this evening.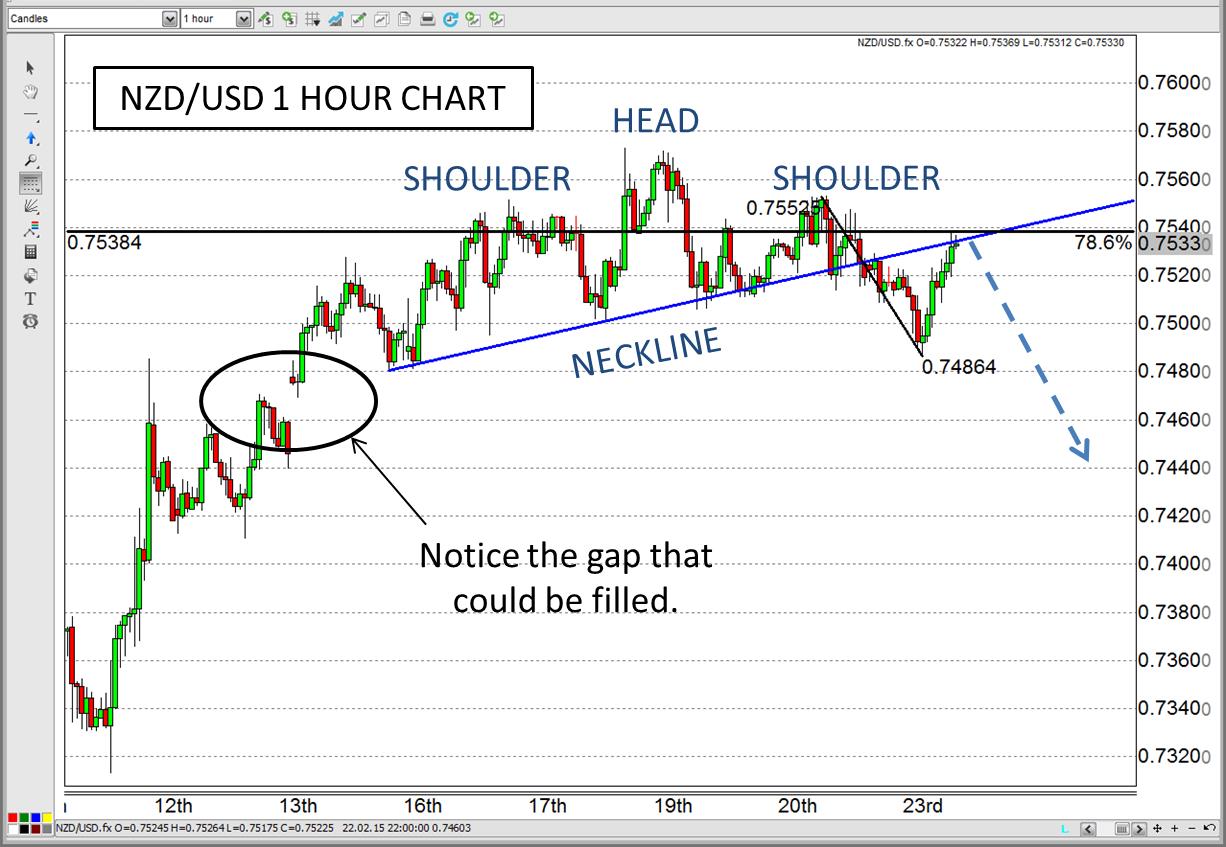 For more intraday analysis and trade ideas, follow me on twitter (@FXexaminer ).