Background:
Traders often refer the impact of 'month end flows' on different currency pairs during the last few days of the month. In essence, these money 'flows' are caused by global fund managers and investors rebalancing their currency exposure based on market movements over the last month. For example, if the value of one country's equity and bond markets increases, these fund managers typically look to sell or hedge their now-elevated exposure to that country's currency and rebalance their risk back to an underperforming country's currency. More severe the monthly changes in a country's asset valuations lead to larger portfolio adjustments between different currencies.
In order to predict these flows and how they impact FX traders, we've developed a model that compares monthly changes in total asset market capitalization in various countries. In our model, a relative shift of $400B between countries over the course of a month is seen as the threshold for a meaningful move, whereas monthly changes of less than $400B are often overwhelmed by other fundamental or technical factors. As a final note, the largest impact from month-end flows is typically seen heading into the 11am ET fix (often in the hour from 10 & 11am ET) as portfolio managers scramble to hedge their overall portfolio ahead of the European market close.
February brought another wave of significant market events to the fore, though market volatility was generally subdued. Perhaps one of the most significant developments last month was the consistent strength in global equities, which took indices like the FTSE, DAX, and DJIA to record highs, while the NASDAQ is within striking distance of its lofty peak last seen in 2000. Confirming the risk-on sentiment, safe haven assets like US and Japanese bonds fell (yields rose) sharply, while gold pulled back and oil edged up off its multi-year lows.
On a relative basis though, by far the biggest move was toward US assets. The Bloomberg US Market Cap Index rose to a new all-time high, rising over 6% on the month as of Monday. Given this massive inflow into US assets this month, global portfolio managers will likely look to reduce exposure to US assets, giving rise to a strong bearish US dollar signal for the end of this week. In fact, the flows into US assets have created the strongest dollar signal of any kind since October 2008, at the start of the Great Financial Crisis.
While Fed Chair Yellen's testimony and the ongoing Greek drama could still influence asset values this week, they are unlikely to change the absolute directional bias of month-end flows (as always, we'll update this report if there are any material changes). Our longer-term view on the greenback remains constructive, but based on our expectations of month-end flows, buck bulls may be in for a bit of short-term turbulence.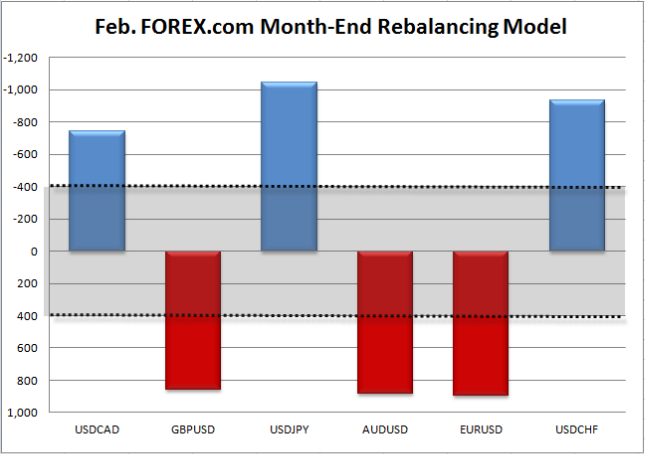 Source: FOREX.com
For more intraday analysis and market updates, follow us on twitter (@MWellerFX and @FOREXcom)