Ever since the price of oil started falling faster than John Travolta's level of sanity, the USD/CAD has been one of the more interesting currency pairs to trade.  Previous to then, the USD/CAD would move scantily on a daily basis, but the volatility in black gold has put an end to that boredom.  In addition, the recent activity of the Bank of Canada has added another element of volatility to the mix.  Now comes word that the Organization of Petroleum Exporting Countries (OPEC) is considering holding an emergency meeting to discuss the fall in the price of their collective lifeblood; and most likely the CAD will feel the effects of that meeting.
In the past, this type of action would lead us to believe that production for oil would begin dwindling, and prices would then start to rise.  However, one of the reasons oil prices have been falling is based on the decision by OPEC to keep business as usual when prices fell dramatically in the first place.  The theory was that additional drilling in the US needed to be starved, so OPEC needed to make it financially punitive to those US entities to operate; and it may have done the trick.  According to Baker Hughes Rotary Rig Count, the total amount of oil rigs for extraction is down significantly as the price to operate them remains the same, but the return on the product extracted has fallen.  While this hasn't always been a reliable indicator for oil pumped, it has caught the attention of the public, which could combine with the OPEC news to give oil a price boost.
If oil were to find some legs in this environment, the CAD would likely benefit despite the dovish lean of their central bank.  In addition, as my colleague Matt Weller mentioned earlier, the USD could be massively overbought as we head in to the end of the month, lending even more fundamental support to the CAD.  On the technical front, the USD/CAD is also challenging a month long declining trend line as well as a Bearish Gartley pattern that recently completed just north of 1.26.  If all of these factors align, it could signal a sell-off that may not find support until it reaches near 1.24.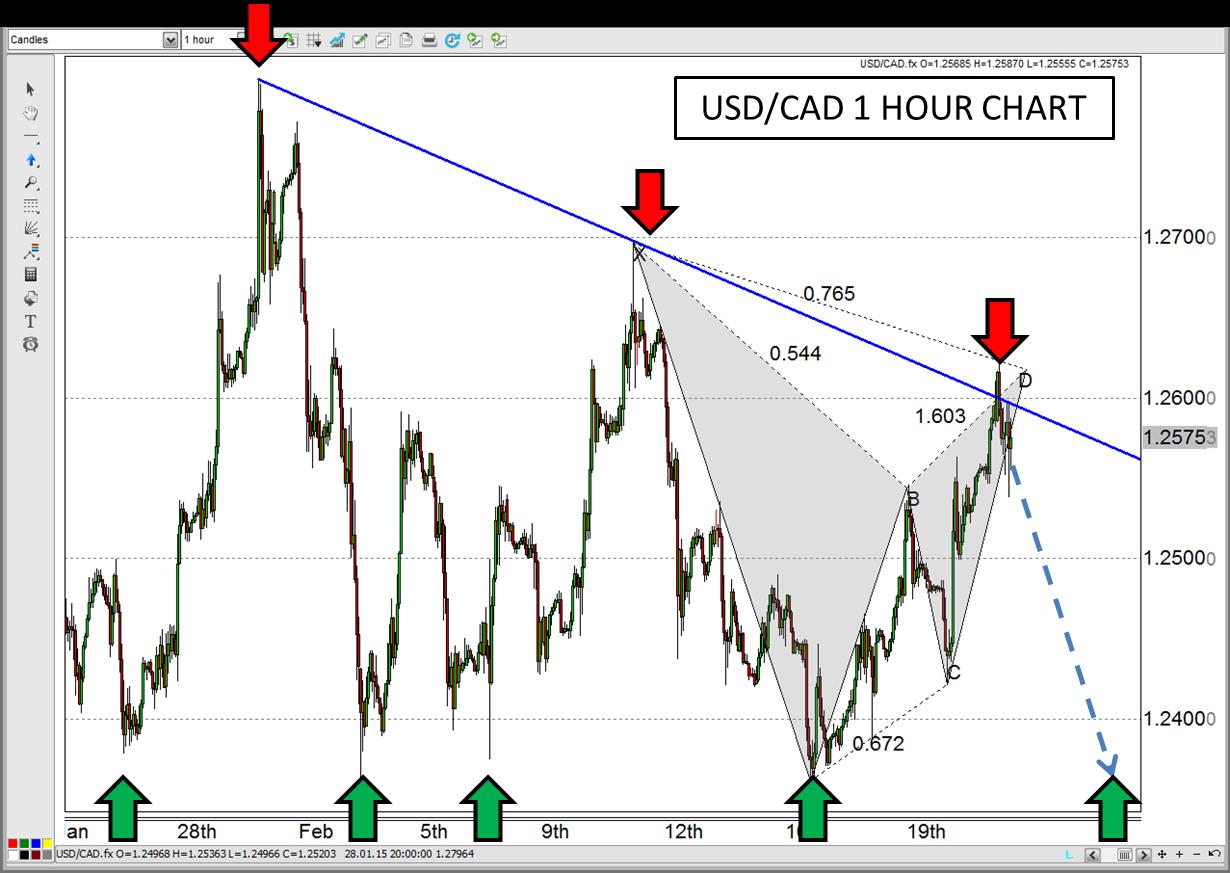 For more intraday analysis and trade ideas, follow me on twitter (@FXexaminer ).