Yesterday we highlighted the possibility of AUDUSD rebounding off a wall of resistance around 0.7850, and sure enough the pair sank to the bottom of its short-term trading channel overnight. Widespread US dollar strength and falling commodity prices are the main causes of AUDUSD's recent weakness. This is set against a back of diverging monetary policy objectives between the USA and Australia, which can exasperated sell-offs – the pair is coming under renewed downward pressure in Asia.
There is still a lot more potential for volatility this week in AUDUSD as the market assess important economic data from both the US and Australia and waits for Fed Chair Yellen's testimony. The market will be looking for guidance on the outlook for rates this year after the minutes from January's FOMC meeting were more dovish than the market expected. Some members appear to have grown more concerned about the lack of inflation and seem convinced that inflation growth will be sufficient. Is the Fed going to delay cutting interest rates as it waits for more signs of upward price pressures?
Yellen may attempt to reassure the market by highlighting upbeat economic data, particularly from the labour market. This may help to dispel some fear that the Fed won't begin tightening interest rates around the middle of 2015. However, the head of the Fed could also use this opportunity to confirm that the bank is indeed growing more concerned about the outlook for inflation.
If Yellen leans more towards the dovish camp then the US dollar may be mauled by bears as US treasuries adjust to better reflect a decreased chance of a mid-2015 rate hike. In the event that Yellen focuses on the improvements in other US economic figures, we expect to see the US dollar rally.
USD data/event watch
• CB Consumer Confidence and existing home sales numbers on Tuesday
• Feb Chair Yellen testifies to a Senate banking panel on Tuesday and to a financial services committee on Wednesday
• New home sales figures on Wednesday
• Inflation and employment data on Thursday
• Fed's Fisher and Lockhart both talk on Thursday
• Growth numbers on Friday
As far as AUD is concerned, we are keeping out eye on a few key events for the commodity currency later this week. Wednesday sees the release of wage price and construction figures – the former is more significant in our opinion. Perhaps the most important piece of data this week from down-under will be the release of CAPEX figures on Thursday; the market is keen to garner more information regarding Australia's attempted transition away from being heavily reliant on mining investment for growth. In other words, not only do we want to see somewhat strong mining investment intentions, but also evidence than non-resource investment is expected to increase significantly. It's also worth noting that HSBC's private sector reading of manufacturing PMI will be released on Wednesday.
From a technical perspective, AUDUSD remains trapped in its short-term upward trend. There are some indications that price remains slightly top-heavy; bearish divergence between price and RSI suggests that the pair is losing upward momentum. However, it may be too early to get overly bearish, at least as long as the pair remains in the aforementioned upward channel.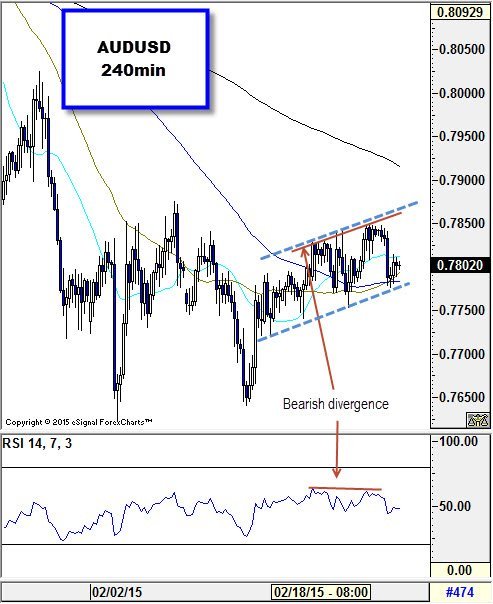 Source: FOREX.com