The one major data release during the Asia resulted in a complete collapse of the NZ dollar. The Reserve Bank of New Zealand (RBNZ) released its two-year inflation expectation and it was significantly lower than the market was expecting, trigging some panicked selling as the market reassessed the possibility of a cut to the official cash rate.
The RBNZ revised its expectation for inflation two years ahead to 1.8%, from 2.06% last quarter. Theoretically, this makes the chance of looser monetary policy in NZ more likely, especially given that the forecast has drifted into the lower end of the RBNZ's target 1-3% range. However, we don't think it tips the scales in favour of an interest cut in the foreseeable future. Policy is already loose and should be sufficiently stimulating for now. In saying that, any further downside surprises from inflation data may make the RBNZ very nervous and would greatly increase the likelihood of a rate cut in the near-term.
Techs
NZDUSD has plunged around 0.7% today, its biggest fall this month. The pair is now testing some trend line support (see chart) as price attempts to regain some composure. A break out of its current upward trend may see selling pressure intensify in the near-term, in which case we may see price head towards 0.7180.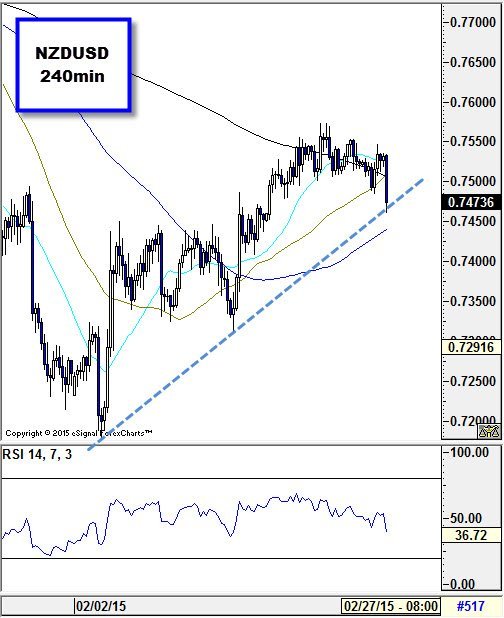 Source: FOREX.com