As pretty much everybody expected, the North American trading session's direction was completely reliant upon the testimony of Federal Reserve Chairwoman Janet Yellen at the Senate Banking Committee this morning.  At the outset, the market interpreted Yellen's prepared statement as hawkish as the line, "conditions have improved to the point where it will soon be the case that a change in the target range could be warranted at any meeting" encouraged the USD bulls to buy up the currency.  However, subsequent clarifications within the document tempered that excitement and markets whipsawed back in the other direction as this line got more attention: "the Committee considers it unlikely that economic conditions will warrant an increase in the target range for the federal funds rate for at least the next couple of FOMC meetings."
So to recap, the Fed feels a change to the interest rate can happen at any time, but they don't expect it to happen in the next couple meetings (March and April).  If we were to read that literally, that places their first expected potential rate rise to come in June; pretty much when a healthy majority of investors felt it would be coming anyway.  Of course, this being Janet Yellen's Fed, we would be remiss to not include the line that everything is "data dependent" as she often recites, so everything is relative when it comes to this statement.  As lunchtime approaches though, equity markets appear to be very encouraged with the testimony as they advance to all-time highs in both the S&P 500 and DJIA.
While it is tempting to want to hop on the bandwagon and look toward more all-time highs in equities, initial reactions to Fed testimony on Capitol Hill can be fleeting.  The S&P 500 in particular appears to be nearing a potential trend line resistance level that could come in to play.  The difficult part about this though is that there is potential trend line support that could boost it higher as well.  The two lines are converging to form a rising wedge which is historically a bearish signal, so the risk for a dramatic fall could be argued as being the most logical outcome.  If this pattern were to continue as it appears, the top may be coming sooner rather than later, perhaps as soon as the conclusion to Yellen's testimony.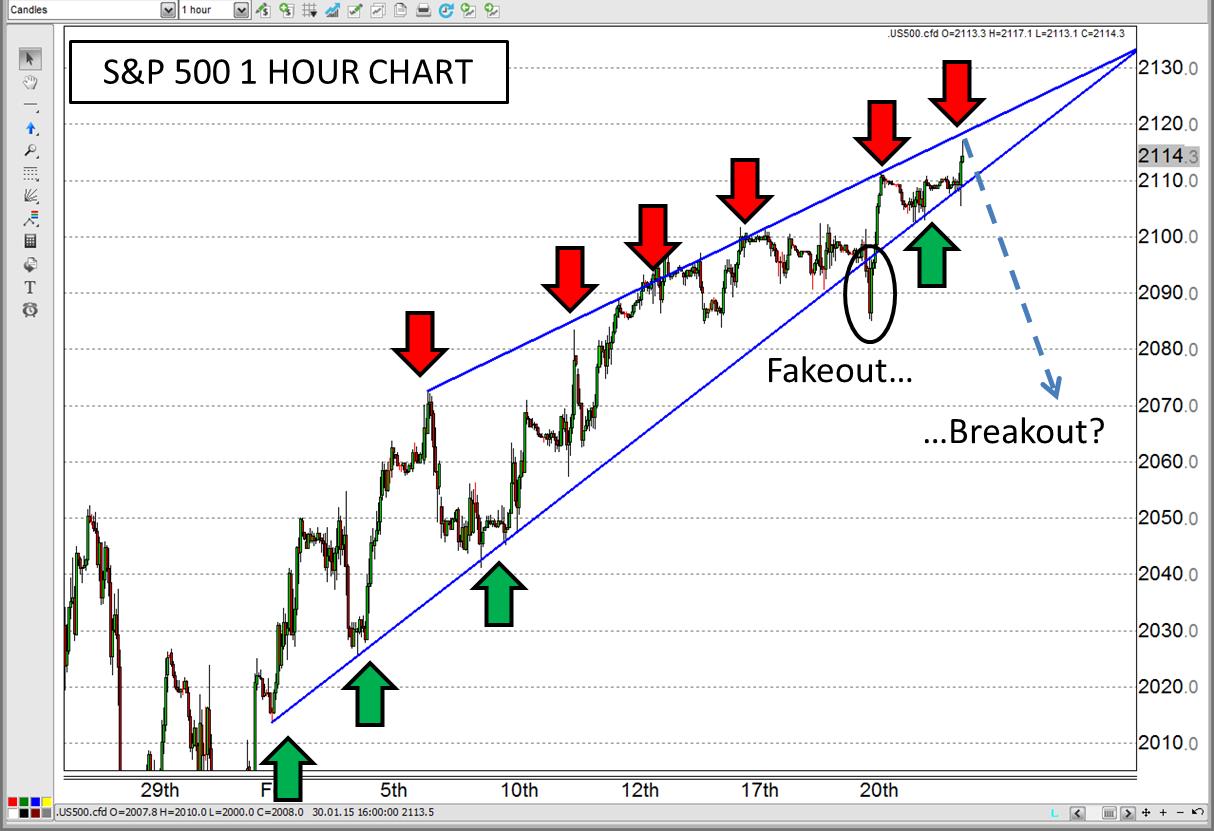 For more intraday analysis and trade ideas, follow me on twitter (@FXexaminer ).