The North American trading session was chock full of central bank speak today as a succession of important monetary figures paraded their currencies around.  The most lauded was Federal Reserve Chairwoman Janet Yellen who had to sit before the Senate Banking Committee this morning, but European Central Bank President Mario Draghi and Bank of Canada Governor Steven Poloz also made appearances and had varying degrees of impact on their currencies as well.  Draghi was the first to take the stage as he introduced a new €20 bank note; much to the chagrin of traders, he didn't say anything that elicited market movement.  Yellen, up next, was first perceived as hawkish, then dovish, and finally neutral. Poloz, who spoke in the afternoon, had a much larger impact than anticipated as he seemed to insinuate that the BoC would be observing the effects of their recent interest rate cut instead of cutting again immediately.
Blessed with this cacophony of central bank luminaries, you'd think we'd have had our fill by now, but you'd be wrong.  Next up in the conga line is Reserve Bank of New Zealand's Graeme Wheeler who will be testifying before the Parliament Select Committee in Wellington this evening.  Wheeler's testimony could have an outsized effect on his currency which has battled back from 0.72 to north of 0.75 in the month of February.  The problem is Wheeler would probably prefer it to be back down near 0.72 as their economy is highly dependent upon exports to both China and Australia which are both struggling economically.  In the current environment of currency wars around the world, devaluating your currency is the name of the game, and Wheeler may help to shepherd it in that direction.
Perhaps helping matters, the NZD/USD has been heading lower recently thanks in large part to the release of Inflation Expectations last night that were in the lower half of the RBNZ's target range.  While that doesn't automatically trigger an expectation of a rate cut from the RBNZ, it could help Wheeler jawbone his currency lower by towing a similar, but more aggressive line used from the last interest rate decision.  Back on January 29th the RBNZ mentioned:
"While the New Zealand dollar has eased recently, we believe the exchange rate remains unjustified in terms of current economic conditions, particularly export prices, and unsustainable in terms of New Zealand's long-term economic fundamentals. We expect to see a further significant depreciation."
If they felt the exchange rate was "unjustified" when it was at 0.72 back then, just imagine what they think about it as it resides near 0.75 now.  If Wheeler opens the door to a rate cut in the near future, the NZD/USD may be due for another, more substantial, move lower than it had yesterday.  Technically arguing for another leg lower is the 78.6% Fibonacci retracement from yesterday's high to today's low which corresponds with recent trend line resistance near 0.7520.  If the NZD/USD rallies in to this resistance before Wheeler speaks, it may be teed up both fundamentally and technically for a big drop.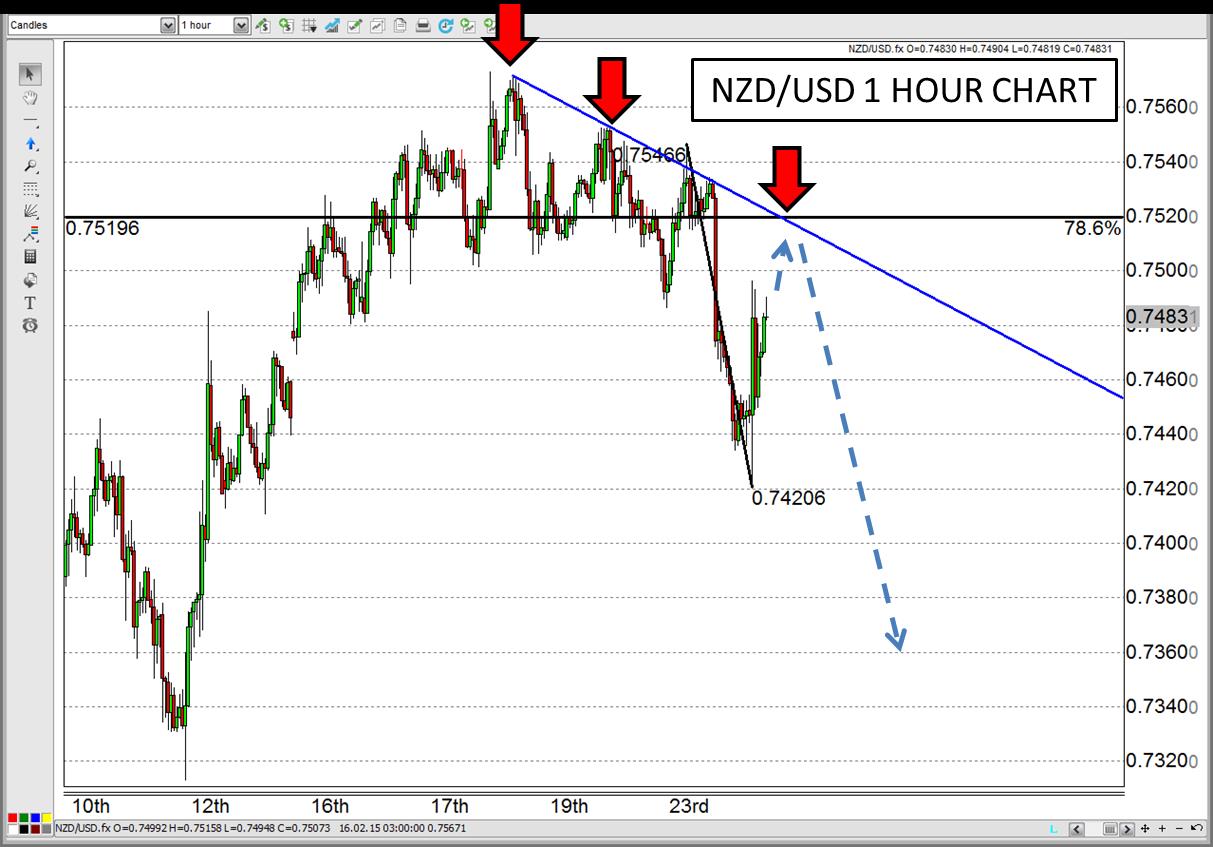 For more intraday analysis and trade ideas, follow me on twitter (@FXexaminer ).