We'll start off with the bad news: wage price growth in Australia is at its lowest level since records began back in 1997, making another interest rate cut from the RBA even more likely. Wage inflation is a key driver of consumer price growth, and overall economic activity for that matter. Wages largely dictate how much capital consumers have to spend on goods and services, thus softening wage price growth can erode retail activity. This lack of commotion at the growth level can quickly feed into the boarder economy, hindering economic growth.
Australia's Wage Price Index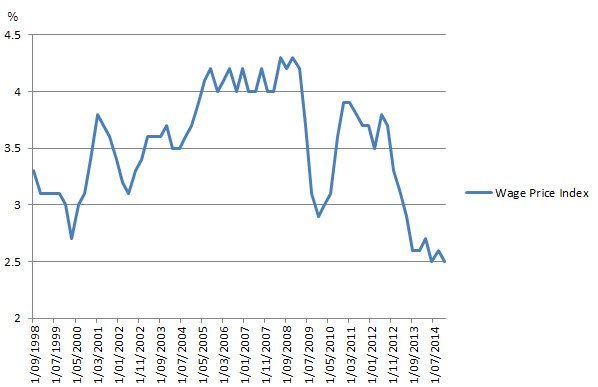 Source: FOREX.com, ABS
The market had anticipated the soft figures (the Wage Price Index jumped 0.6% q/q and 2.5% y/y), thus the Australian dollar didn't have much of a reaction to the numbers. In fact, the AUD was actually propelled higher by better than expected construction numbers and an increase in internet job vacancies in January, as well as better than expected manufacturing data from China. Skilled vacancies jumped 0.7% last month, after rising a revised 0.4% in the prior month (original figure for December was 1.0%). This increase in job vacancies spurred optimism that the job market is picking up.
In China, better than expected private sector manufacturing figures have helped to dispel some doubt about the strength of the economy. HSBC's Manufacturing PMI jumped to 50.1 this month, beating an expected decline to 49.5 from 49.7. New orders increased at a faster rate while new export orders decreased, but it's still a positive report overall.
AUDUSD
AUDUSD was able to break through an important resistance zone around 0.7850 following the slew of Australian economic numbers - a build-up of orders around this level helped to fuel the rally. China's manufacturing numbers gave AUD bulls even more reason to charge and AUDUSD is above another resistance zone around 0.7880 at the time of writing.