It was a hard start to the week for the NZ dollar due to the release of softer than expected inflation forecasts from the RBNZ, but widespread antipodean currency strength has helped the pair regain all of its lost ground. NZDUSD is back to pre-inflation data levels and is testing a near-term high around 0.7550. Meanwhile, NZDJPY has bounced off a key zone for price, after it was rejected by a resistance zone around its 61.8% retracement level from this year's high.
For those that missed yesterday's inflation numbers, here's what you need to know:
• The RBNZ revised its expectation for inflation two years ahead to 1.8%, from 2.06% last quarter. Theoretically, this makes the chance of looser monetary policy in NZ more likely, especially given that the forecast has drifted into the lower end of the RBNZ's target 1-3% range. However, we don't think it tips the scales in favour of an interest cut in the foreseeable future. Policy is already loose and should be sufficiently stimulating for now. In saying that, any further downside surprises from inflation data may make the RBNZ very nervous and would greatly increase the likelihood of a rate cut in the near-term.
So, why has the kiwi been able to recover its lost ground? The kiwi has been feeding off aussie strength and positive manufacturing figures from China. China's HSBC Manufacturing PMI jumped to 50.1 this month, beating an expected decline to 49.5 from 49.7. New orders increased at a faster rate while new export orders decreased, but it's still a positive report overall. Although, it's unclear whether this is due to monetary easing or a temporary boost from Chinese New Year celebrations.
Meanwhile, the yen has also been strengthening against the US dollar but not by as much as the antipodean currencies. The end result for NZDJPY has it trapped between a rock and a hard place (see chart). While it remains in this range it's hard to pick a technical bias for the pair, but a break either way may see bears/bulls emerge and support price.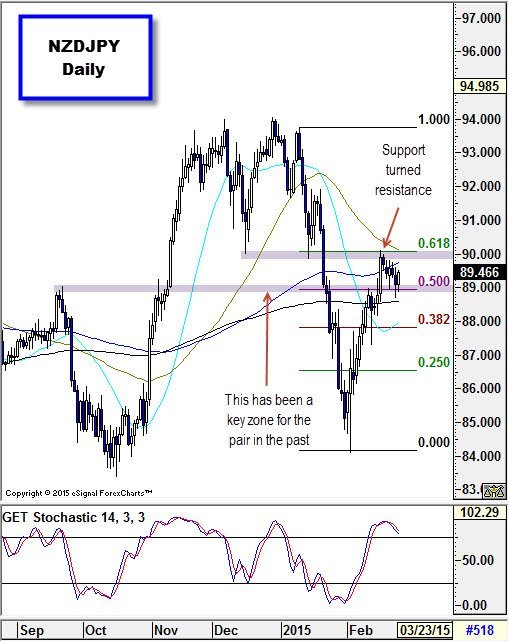 Source: FOREX.com