For a second straight day Federal Reserve Chairwoman Janet Yellen is testifying before Congress, but today's appearance before the House Financial Services Committee is getting much less press than yesterday's.  Mainly the reason revolves around the thought that she won't say anything differently than she said yesterday, and so far, that thought is bearing fruit.  In response, markets are remaining relatively calm with equities remaining steady and USD based currency pairs doing the same. The only other news of note was US New Home Sales which was better than consensus expectations and Crude Oil Inventories that surged higher as well.
In this low volatility environment, many markets have had the opportunity to rest on their laurels and survey their current stance.  This is the type of lull that allows investors to find technical patterns instead of reacting haphazardly to news events as they refresh on their computer screens in an attempt to catch a move.  One such market that could be setting up for such a technical move is the GBP/CAD.
On the Canadian front, yesterday was a bit of a surprise as Bank of Canada Governor Steven Poloz indicated that his institution isn't really in a hurry to cut rates again as they would like to survey the effect their recent rate cut had.  While the market seemed rather taken aback by that assertion, it really isn't all that out of the ordinary as central bankers typically prefer to do as little as possible to reach their goals; standing back and watching the effect of their policy changes is one way of doing that.  Due to that surprise though, the CAD has been gaining against all of its rivals for about the last 24 hours or so, overzealous as it may be.  However the BoC is still likely to remain on dovish footing which could eat away at its recent strength.
The GBP has also been a relatively strong currency of late, but not just over the last 24 hours, it has been strong for about the last month.  The GBP has good reason to be healthy as well as economic releases have been encouraging and the situation in mainland Europe has created more financial flow to those currencies that are close to, but monetarily disconnected from, the EUR. 
Given the stance of the two regions, the GBP/CAD looks particularly intriguing as it approaches a significant support level provided by two separate Fibonacci levels, a psychologically important price point, as well as a month-long rising trend line.  If all of these support points come in to play simultaneously in this technical pattern focused atmosphere, the rally in the GBP/CAD may only be taking a brief respite before resuming higher once again.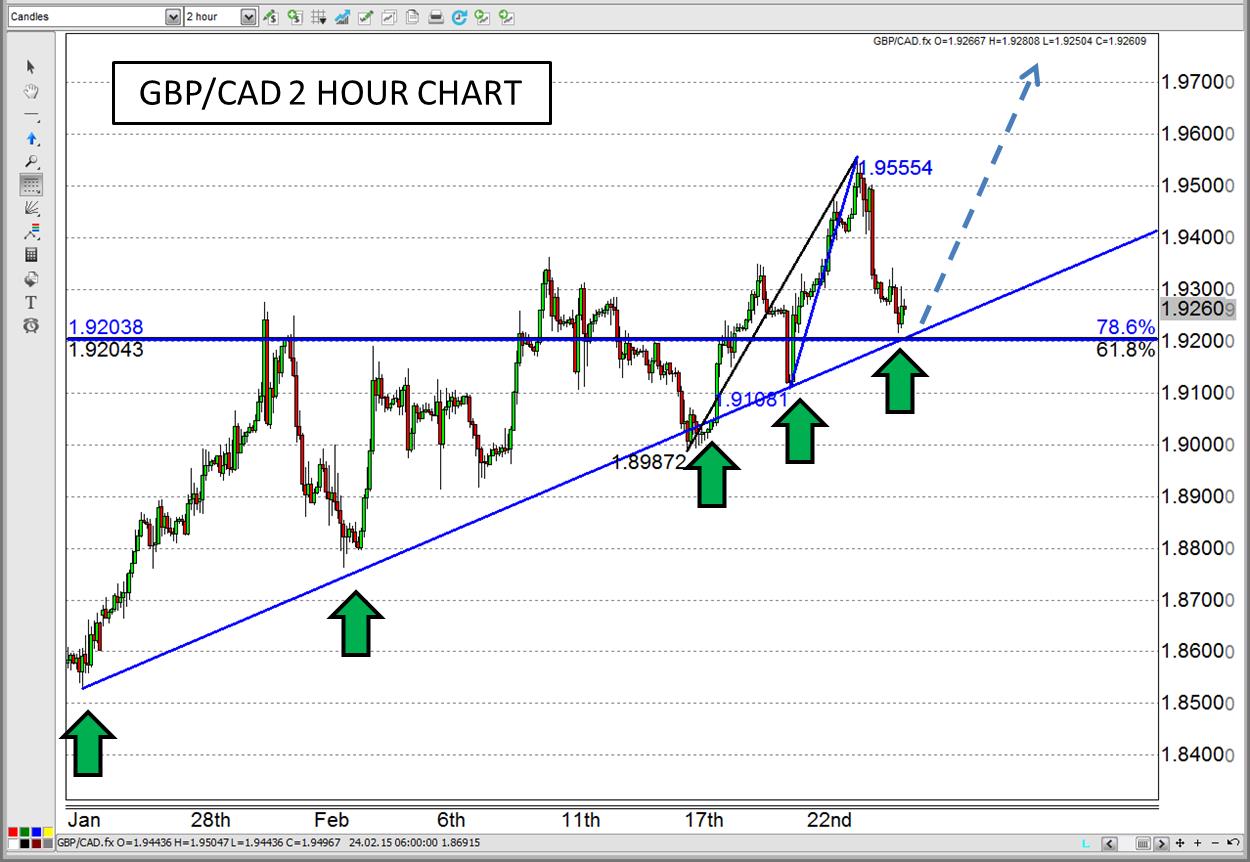 For more intraday analysis and trade ideas, follow me on twitter (@FXexaminer ).