What were you doing during this month 13 years ago? If you're like me (or frankly, just about anyone), you probably have no clue. For USDZAR though, the answer is clear on the chart; that currency pair was trading in the same area in the mid-11.00s back in February 2002. In the intervening years, the US dollar's value has fallen by 50%, doubled back to 11.84, and fallen by another 45% before recovering back to its current level against its South African rival. With rates topping out at the same 11.84 level earlier this month, traders are wondering whether that key barrier could mark a significant top in USDZAR once again.
Tackling the fundamental side of the trading ledger first, there are certainly some encouraging signs for the Rainbow Nation. For one, yesterday's Q4 GDP report came out substantially better than anticipated at 4.1% annualized (q/q) vs. about 3.5% expected. This marks the second highest GDP reading since earlier 2011 and suggests that South Africa's economy is finally finding its stride after stumbling on falling commodity prices and a series of debilitating labor strikes over the last few years. In addition, last night's stronger-than-expected HSBC Chinese Manufacturing PMI report also bodes well for South Africa, as China is South Africa's single largest export market.
The longer-term technical picture is more nuanced. The most obvious feature of the chart is the nearly 4-year bullish channel that has guided USDZAR all the way from below 7.00 to the current level. As long as that long-term channel is intact, it's difficult for swing traders to turn outright bearish on USDZAR.  That said, bulls may finally be tiring out. The unit has formed a clear triple bearish divergence over the last year, with the weekly RSI putting in lower highs at each of the last three higher highs in price.
If the fundamental situation in South Africa continues to improve, USDZAR could finally break below long-term bullish channel support near 11.25. If that scenario develops, USDZAR could target the Q3 lows near 10.90 heading into the middle of the year. On the other hand, if bulls can shake of the recent malaise and break conclusively above 11.84, the pair could eventually target 12.00 or 13.00 later this year.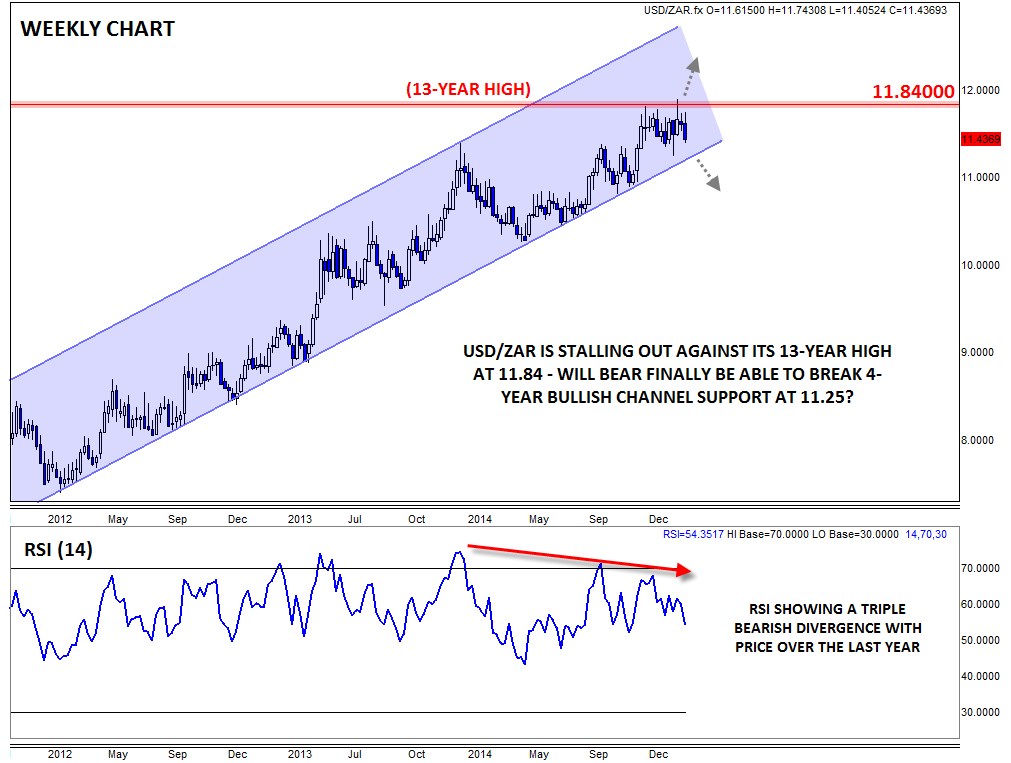 Source: FOREX.com
For more intraday analysis and market updates, follow us on twitter (@MWellerFX and @FOREXcom)