The Australian dollar is taking a hammering in Asia on the back of soft capital expenditure figures from the private sector. The figures are disappointing enough to tip the scales back in favour of further monetary policy loosening from the RBA next week. Prior to the data the OIS market appeared to be pricing in around a 40% chance of an interest rate cut next week, but that has jumped to just over 50% at the time of writing. This was reflected in the FX market by a large sell-off in the Australian dollar, pushing it away from an important resistance zone around 0.7900 against the US dollar.
It's a dark report
A slight positive was that Q3's number was revised higher to 0.6% from 0.2%, but the rest of the report was pretty gloomy. Private capital expenditure fell 2.2% last quarter, missing an expected 1.6% drop, and investment intentions for the year also underwhelmed expectations.
The details of the report are even more disappointing. The first estimate of total capital expenditure for 2015-16 is $109.8bn, which represents a 12.4% drop in investment intentions from the first estimate for 2014-15. The outlook for non-resources sectors of the economy is even worse than expected, suggesting that firms aren't very optimistic about the outlook for the economy as they aren't willing to pledge more cash. Also, the seasonally adjusted mining estimate fell 5.7% last quarter and estimate 5 for 2014-15 is 8.6% lower than the same estimate for 2013-14.
The aussie
As we outlined earlier, the AUD was assaulted by bears following today's Australian CAPEX data. AUDUSD is around 50 pips lower at the time of writing and may have lost its opportunity to break through 0.7900 in the near-term. With the focus now squarely on next week's policy meeting at the RBA, the capability of the AUD to regain any ground may depend on the ability of the market to brush aside today's data. Given how weak the data was, we think AUD may continue to come under threat in the lead-up to the RBA's policy decision on Tuesday afternoon.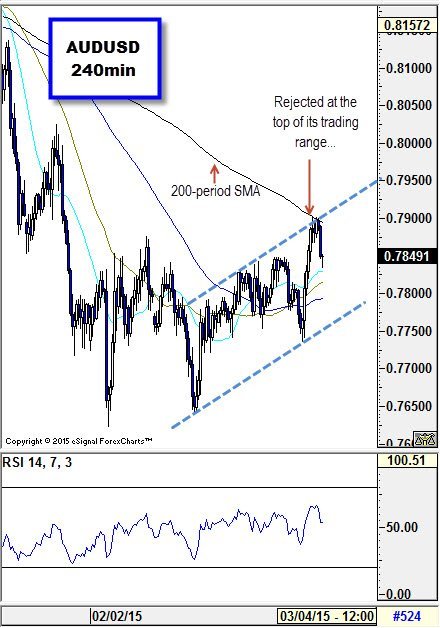 Source: FOREX.com