It's been a busy morning for US dollar traders, with an onslaught of data releases all hitting at 8:30 ET. In probably the most important report, the Consumer Price Index (CPI) fell by -0.7%, more than the 0.6% that traders and economists had been expecting. However, the Core CPI figure, which filters out volatile energy and food prices, actually came in above expectations at 0.2%. Given the Federal Reserve's repeated comments that the fall in oil prices should only have a temporary impact on inflation, the stronger-than-expected Core CPI figure is more relevant for traders and a marginal positive for the US dollar.
Today's other US economic reports were similarly mixed: the always-volatile Durable Goods Orders report beat expectations, but Core Durable Goods Orders missed, and Initial Unemployment Claims also edged up to a 6-week high of 313k. After throwing all this data in a blender and setting it to puree, traders have come to the conclusion that this morning's reports represent a small positive for the world's reserve currency, and the dollar index is now edging up back up to the mid-94.00s.
Technical View
On a technical basis, the US dollar remains firmly within its recent consolidation pattern. Over the last month, the dollar index has formed a clear bullish pennant formation at the top of its uptrend, and the classic interpretation is that this pattern shows a brief pause in the trend before an eventual continuation higher. As always though, it's important to wait for price to confirm the pattern and break out before trading too aggressively to the long side. Meanwhile, the secondary indicators are also painting a mixed picture. The MACD continues to revert back to the 0 level, showing waning bullish momentum, while the RSI has pulled back from overbought territory but is still holding above the 50 level that has provided support throughout the entire uptrend.
At this point, it's difficult to say whether today's US economic data will be enough to break the dollar out of its sideways range. If the index can break the 2-week high at 95.00, then bulls may cautiously start to dip their toes in to buy the dollar, but it will take a conclusive break above 96.00 to reinvigorate the uptrend for a possible move up to key psychological resistance at 100 next. Conversely, a break below 93.50 support could signal at a medium-term top in the index for a possible pullback toward the 50-day MA in the mid-92.00s, but based on the current fundamental and technical situation, we view that as a lower probability outcome.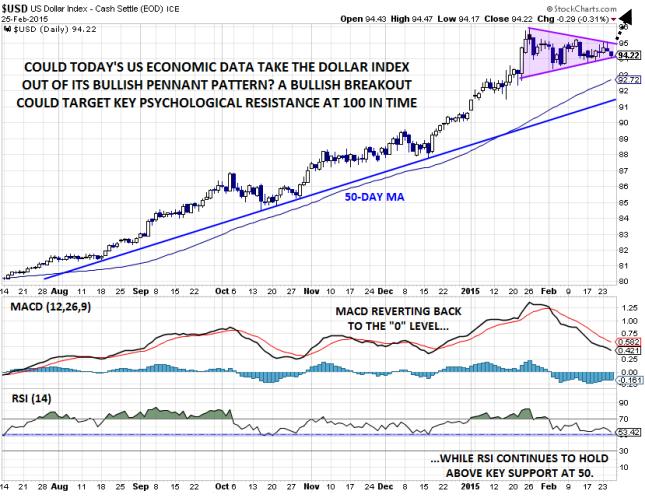 Source: FOREX.com
For more intraday analysis and market updates, follow us on twitter (@MWellerFX and @FOREXcom)