The early portion of the North American trading session has been quite exhilarating thus far with a bevy of inflationary indicators suggesting that our worst fears aren't a reality in both the US and Canada.  Core Consumer Price Indexes in both nations were better than anticipated which gave both the USD and the CAD a boost against all of the other major currencies; none more so than the EUR/USD which FINALLY broke through major support near 1.1260.  Along with the encouraging inflation figures for the US were Durable Goods Orders that surged 2.8% and the Housing Price Index that grew 0.8%.  However, not all was rainbows and puppy dogs as both of the employment indicators, Initial Jobless Claims and Continuing Jobless Claims, were worse than anticipated.
Circling back to the EUR/USD, the range that it broke out of was one that it had been mired in for a bulk of the last month.  Through all the European strife related to Greece and the eventual aftermath the currency pair was stuck in about a 250 pip range that was finally taken out to the bottom side after the data releases.  It's almost like a sigh of relief for investors now that they feel they can sell the euro without having to worry about stubborn support holding it up anymore.  However, that sigh could backfire if the next level of support holds as a short squeeze could take hold.
Going back to the 2015 low to the February high, the EUR/USD found support at the 61.8% Fibonacci retracement (1.1260) and held there, however, the 78.6% Fibonacci retracement looms just below 1.12, and could be the next frustrating support that doesn't want to yield.  Considering the overall angst felt toward the euro in general, that 78.6% Fibonacci level may very well be the staging point for a rally that could squeeze out many of the bandwagon euro sellers as they pile in to the short side of the troubled currency.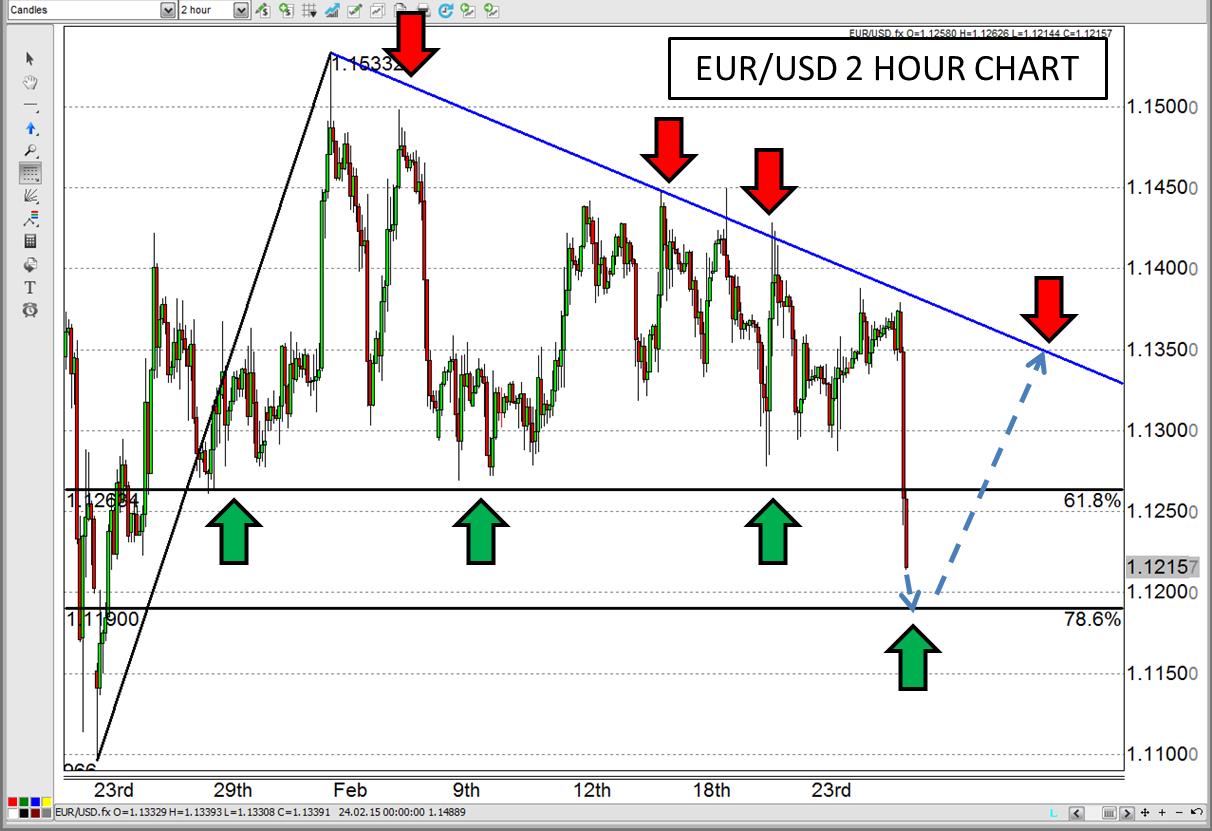 For more intraday analysis and trade ideas, follow me on twitter (@FXexaminer ).