Over the last few weeks, there's been plenty of volatility in stock, bond and commodity markets, but for the most part, currencies stubbornly stayed within their recent ranges. That all changed this morning, when just a modest beat on US Core CPI reinvigorated dollar bulls and led to a big breakout in the dollar index (see this morning's report, "Could the Dollar Index Join the Century Club?" for more). This morning's big move in the world's reserve currency seems to have finally shocked forex traders out of their stupor, leading to more volatility across the board.
One of today's biggest moves has been in GBPUSD, which has dropped 150 pips after setting a a new 2-month high at 1.5550 earlier today. Beyond the broad-based dollar strength, the pound has also been hit by weaker-than-expected Q4 Business Investment data, which fell -1.4% vs. an expected gain of 2.0% (last quarter's reading was also revised down 0.7% to -1.4%). Earlier this week, my colleague Fawad Razaqzada noted that the pair had peeked out above the 23.6% Fibonacci retracement of last year's second half drop, but with today's reversal, it looks like that move may have been a false breakout. Astute traders will note that the pair is also forming a large Bearish Engulfing Candle* on the daily chart (not shown), signaling an abrupt shift from buying to selling pressure.
Adding to the short-term bearish technical evidence, the pair has been forming a rising wedge pattern over the last month. Though this pattern is created by a series of higher highs and higher lows, the shallower slope of the highs suggests that the bulls may be losing momentum. If the unit breaks below its current support level at 1.5400, we could see a more substantial drop emerge. Further bolstering the bearish case, the rising wedge pattern is confirmed by triple bearish divergences in both the MACD and RSI indicators, showing clearly receding bullish momentum.
At this point, the outlook for GBPUSD seems relatively straightforward: bulls will be on edge unless the pair can get back above long-term Fibonacci resistance at 1.5480 (and ideally the yearly high at 1.5600 as well), and a break through trend line support at 1.5400 could pave the way for a continuation down to the Fibonacci retracements of the February rally at 1.5320 (38.2%), 1.5250 (50%), or 1.5180 (61.8%).
*A Bearish Engulfing candle is formed when the candle breaks above the high of the previous time period before sellers step in and push rates down to close below the low of the previous time period. It indicates that the sellers have wrested control of the market from the buyers.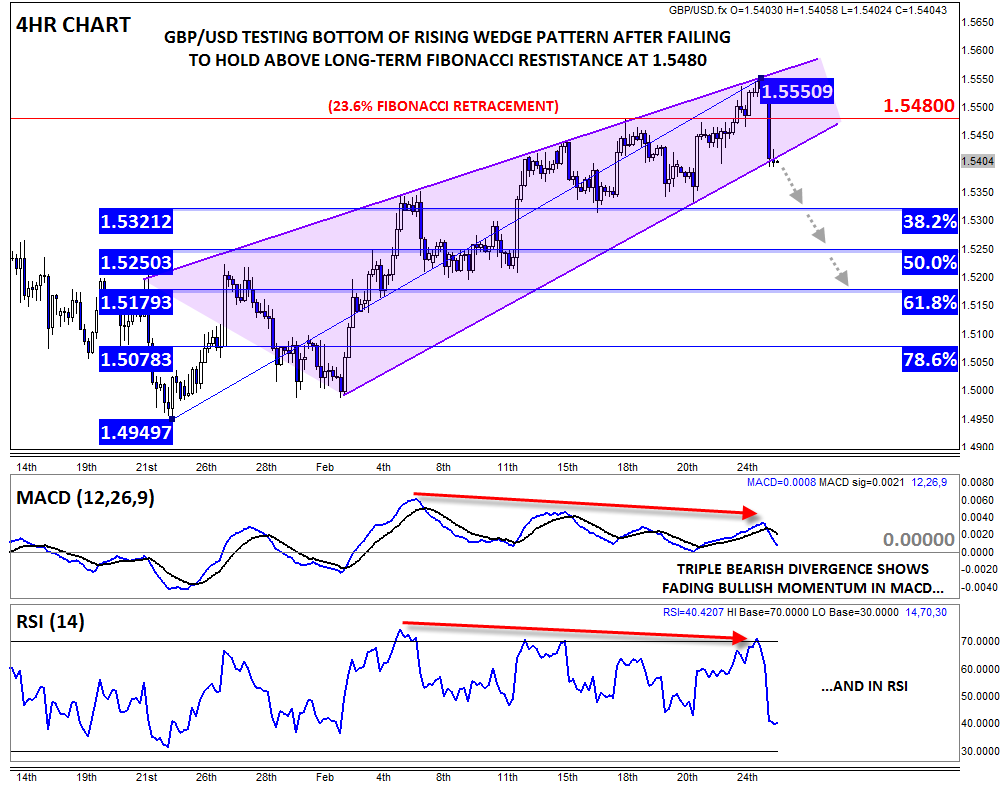 Source: FOREX.com
For more intraday analysis and market updates, follow us on twitter (@MWellerFX and @FOREXcom)