Crude oil is trading higher on this last trading day of the week and the month. At a good $61 a barrel, Brent is also higher on the week but WTI is down as it hovers around the $49 level. The price differential between these two oil contracts has therefore grown to $12, the widest since January 2014.
The widening of the price gap in part reflects the fact that the US oil output has continued to grow relentlessly despite the much weaker prices recently. This has helped to push crude stockpiles to repeated all-time highs, which more or less confirms that the market is still oversupplied. As the Energy Information Administration's (EIA) latest data shows, crude inventories grew by some 8.4 million barrels last week. This was the seventh consecutive weekly increase; stocks have grown by more than 50 million barrels during this time, pushing the total to 434.1 million barrels. However there was some good news as both gasoline and distillate stocks decreased sharply last week, by a good 3.1 and 2.7 million barrels respectively. This actually caused WTI oil prices to recover somewhat in mid-week and prevented a larger decline for the week as a whole. Meanwhile, the current economic conditions do not point to a marked improvement in oil demand, so any notable recovery that we may see will mostly be due to the supply side of the equation. On this front, Baker Hughes' rig count data, released on Fridays, and the usual weekly inventories reports, on Tuesdays and Wednesdays, will be among the best indicators about the future production levels. Last week, the falls in rig counts were noticeably lower compared to recent times. If this trend continues then WTI may struggle to recover much further than it already has, as nothing has been done about the supply glut in the short-term which continues to exert strong downward pressure on prices.
In contrast, Brent looks more constructive. There seems to be some disquiet among the OPEC after Nigeria's oil minister, Diezani Alison-Madueke, who is also the current president of the OPEC, recently said that further price volatility would make it "highly likely that I will have to call an extraordinary meeting of OPEC in the next six weeks or so." This has increased speculation that the cartel may after all cut back its production quota and thus concede some market share to shale producers. However if this is dismissed, Brent could potentially fall back significantly as investors price out the probability of a production cut.
The daily chart of Brent shows a potentially technical bullish development following this week's rally off the $58.50/$59.00 support area. As can be seen, this area was previously resistance and it also corresponds with the 23.6% Fibonacci retracement level of the recent upswing. As this is a particularly shallow retracement level, it points to potentially large gains IF resistance around $63.00 breaks. However if the bears win this particular battle then we may see a sizeable pullback towards some of the support levels shown on the chart, with the first such level being the 38.2% retracement at just above $56. Meanwhile the 1-hour chart of WTI shows a completely different picture. After creating a triple top reversal pattern early last week at $54.00, it has generally traded lower inside a short-term bearish channel. Though it has found some support around $48.75, the short-term bias would only turn bullish upon a break above resistance at $51.  
Figure 1: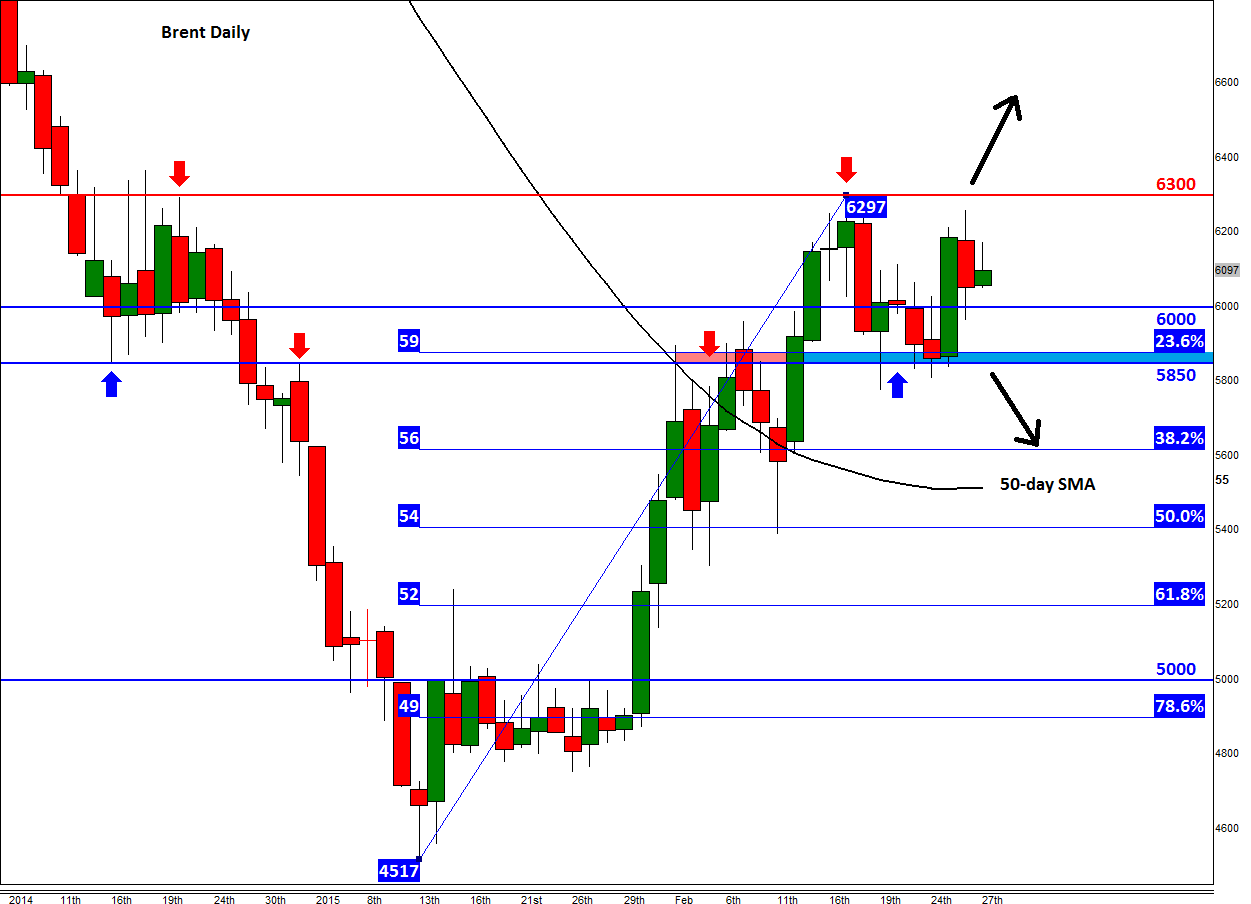 Figure 2: