So much for ducking out of the office early! Markets are keeping traders on their toes on the final trading day of the week. In today's European session, traders got their latest insight into the inflation picture in the Eurozone, and the news was modestly positive. Inflation came out better-than-expected in Spain (-1.1% y/y), Italy ( 0.3%) and most importantly, Germany ( 0.9%), suggesting that the Eurozone economy may finally be turning the corner on its fight against inflation. If consumer prices can build on this month's readings moving forward, the ECB could remain on track to wind down its QE program next year, and EURUSD has bounced off the 1.1200 level in sympathy.
Meanwhile, on the other side of the Atlantic, US preliminary GDP came out a tick better than anticipated at 2.2% vs. 2.1% eyed. On the bright side, growth in household consumption, which is seen as more sustainable than other sources, held up well at 4.2% annualized, while international trade and inventories were lower than initially estimated. With the economic growth coming out roughly as expected, the reaction in the US dollar has been limited thus far.
Currency Pair in Play: USDTRY
Though it's not one of the major currency pairs that most traders religiously follow, USDTRY may be one of the most interesting markets right now. The Turkish lira fell to a record low against the US dollar this morning as Turkey's economy minister suggested that the independence of the Central Bank of the Republic of Turkey (CBRT) should hinge on whether it is taking "national interest" into account.
As we noted at the beginning of the month, the Turkish government is becoming more and more frustrated with the CBRT's slow pace of rate cuts, and has become increasingly critical of the central bank's independence. It's not often talked about, but one of the pillars of a modern developed economy is an independent central bank, and with every criticism of the CBRT, traders are becoming more concerned with the future of that premise.
On a technical basis, the path of least resistance in USDTRY remains to the topside. Rates have pulled back modestly after hitting an all-time high above 2.52 earlier today, but as long as the pair remains above previous-resistance-turned-support at 2.42, more gains will be favored. The secondary indicators are generally supportive as well, with the MACD turning higher above its signal line and the RSI indicator not quiet overbought (yet). To the topside, bulls may look to target the Fibonacci extensions of the early February pullback at 2.5360 (127.2%) and 2.5650 (161.8%) next, but if the CBRT's independence comes under further fire, a move up toward 2.60 or higher could easily be in play next month.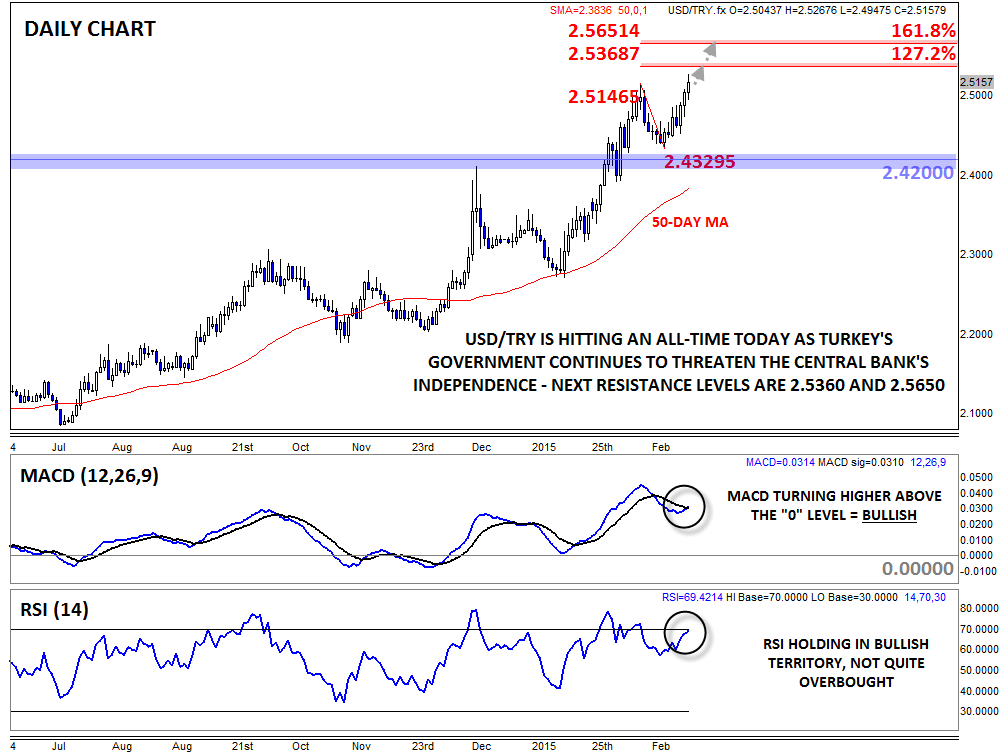 Source: FOREX.com
For more intraday analysis and market updates, follow us on twitter (@MWellerFX and @FOREXcom)