"With the new day comes new strength and new thoughts."
- Former US First Lady Eleanor Roosevelt
Beyond providing a hopeful note at the start of the trading week, the above quote encapsulates the optimistic perspective of euro traders at the start of the week. As we noted in Friday's Week Ahead report, the euro finished last week on a sour note, with EURUSD falling to its lowest level in a month. After a gap lower to kick off this week, traders feared more of the same, but stronger-than-anticipated economic data from the Eurozone turned sentiment around.
This morning's data showed that Eurozone unemployment fell to 11.2%, 0.2% more than economists were expecting and CPI inflation in the single currency zone came in at "only" -0.3% y/y, against an expected reading of -0.5%. These reports continue the underpublicized trend of decent economic data out of Europe, raising hopes that deflationary pressures may be subsiding. On that front, traders are eagerly awaiting this month's press conference from ECB President Draghi, where he will presumably provide more details on the ECB's new QE program. Across the pond, weak personal income and spending data out of the US (0.3% and -0.2% m/m respectively) has lent further support to EURUSD specifically.
Technical View: EURUSD
The euro is not out of the woods by a long shot yet, but this morning's data suggests that EURUSD could continue to hold above its 12-year low at 1.1100 in the near term. The chart broadly supports this view: though it's too soon to call today's trough a higher low, the current bullish divergence with the RSI indicators suggests that selling pressure is receding. Meanwhile, rates could be forming a bullish Piercing Candle*, which if confirmed, would indicate an intraday shift from selling to buying pressure and raise the probability of a rally from here.
In the immediate term, the February lows near 1.1280 could now provide resistance on any rallies, and if that barrier is eroded, a move back up to the 23.6% Fibonacci retracement at 1.1440 could be seen next. Of course, a run of strong US data or a renewed downturn in Europe could always change this cautiously-optimistic view of the pair, so if we see a break to new lows under 1.1100, bulls may abandon their positions as sellers press for the 1.10 level.
*A Piercing Candle is formed when a candle trades below the previous candle's low, but buyers step in and push rates up to close in the upper half of the previous candle's range. It suggests a potential bullish trend reversal.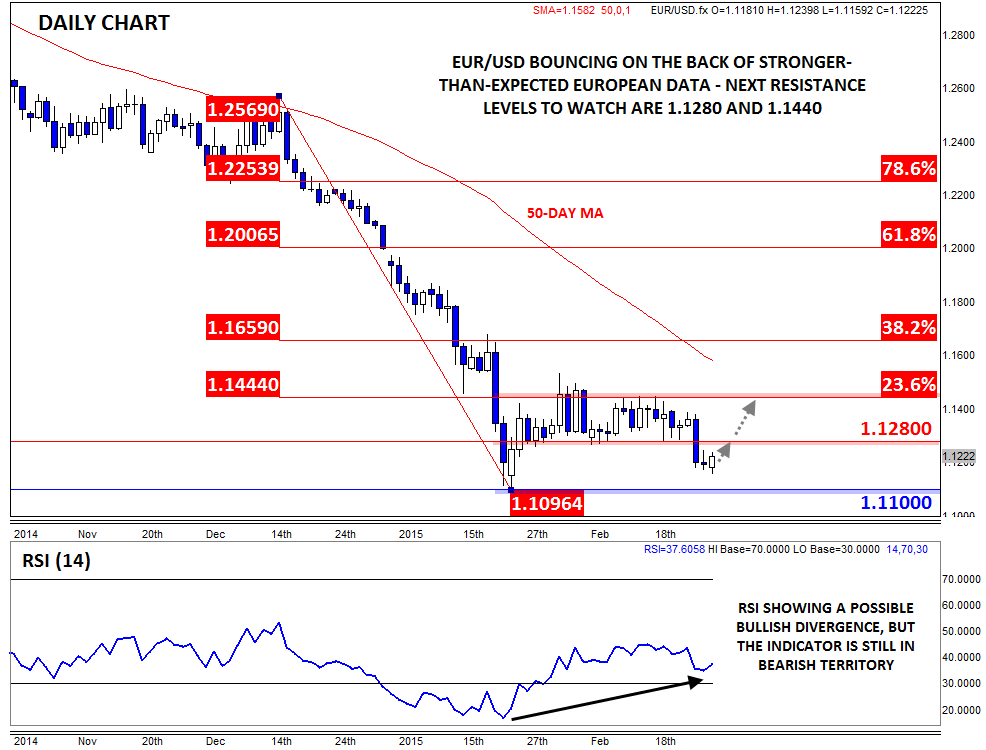 Source: FOREX.com
For more intraday analysis and market updates, follow us on twitter (@MWellerFX and @FOREXcom)