It's been an interesting start to what promises to be a interesting week in the FX market. The biggest story of Monday's trade thus far has been the continued strength of the dollar despite disappointing data in the world's largest economy. European currencies, including the Swiss franc and British pound, are getting hit particularly hard against the greenback.
Shifting gears to the EM world, traders are still trying to digest the PBOC's surprise rate cut over the weekend. With economic activity slowing in the world's 2nd-largest economy, the PBOC opted to cut its both its lending rate and deposit rate by 0.25% to 5.35% and 2.5% respectively. In addition, the central bank has allowed the Chinese yuan to drop to its lowest level against the dollar since late 2012. Beyond the direct economic impact of the rate cuts, the PBOC's actions signal that the central bank stands ready to support the Chinese economy with further easing later this year if needed. Thus far, neither developed (AUD and NZD) nor emerging (ZAR, SGD, THB) have found much solace in the PBOC's support, but if we start to see Chinese economic data improve in response, those currencies may finally finds some support against King Dollar.
Technical View: USDCNH
As we've noted before, the Chinese yuan is not a completely free-floating currency. Instead, the People's Bank of China (PBOC) sets a "central parity rate" against a basket of world currencies (primarily the U.S. Dollar), and the currency is allowed to oscillate within a 2% band around that level. For reference, the PBOC set today's central parity rate at 6.1513, meaning that it will allow the currency to fluctuate between 6.00 and 6.30. Because of this so-called "managed float" regime, the efficacy of traditional technical analysis is limited, though it can still help traders identify relevant trends and key levels within the trading band.
USDCNH has been quietly putting in higher highs and higher lows since Q4, forming a clear bullish channel over that period. AS of writing the pair is in the middle of that channel, with more room up to the 78.6% Fibonacci retracement of the 2012-2013 drop at 6.312 if the central parity rate continues to nudge higher. Meanwhile, the secondary indicators are generally supportive, with the MACD and RSI both in bullish territory, but not overbought.
From here, the path of least resistance for USDCNH remains to the topside for a possible test of 6.3120 next. If that level is eclipsed (and especially if the PBOC is forced to cut interest rates further) an eventual move up toward 6.40 could be in play. At his point, only a reversal below the bullish channel and 50-day MA around 6.25 would shift the bias back to the downside.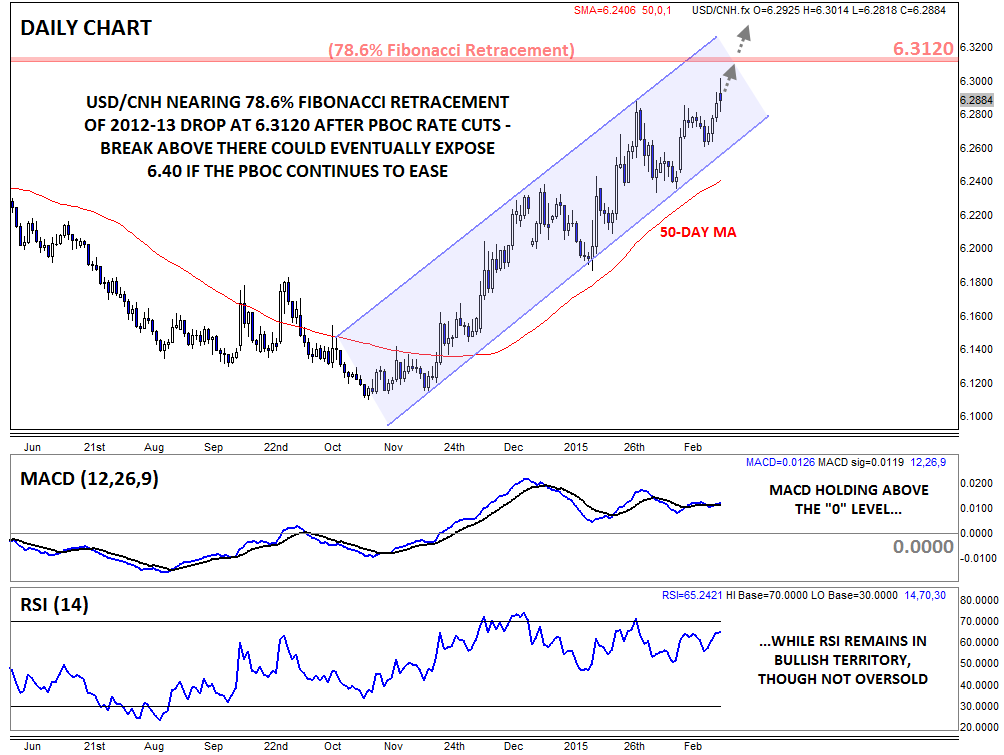 Source: FOREX.com
For more intraday analysis and market updates, follow us on twitter (@MWellerFX and @FOREXcom)