By this point, you have already probably heard that the Reserve Bank of Australia will be making a monetary policy decision this evening, and that they are expected by a majority of market participants to cut interest rates by 25 basis points.  The big question in most investor's minds as we head toward the decision is whether the RBA will maintain their neutral stance or will indicate that further cuts down the road are warranted if they fail to see improvements in key aspects of the Australian economy.  The problem with a majority anticipating a cut though is that a disproportionate amount of traders tend to line up on that side of the trade before the event even happens, increasing the chance of a "buy the rumor, sell the news" type of market reaction.
If the AUD/USD were to adhere to that type of reaction, there are certain points where support could be found once the initial wave of sellers rush to the market.  It is these technical points where experienced (or heavily liquid) investors look to turn the market on its ear and flip the move to the other way.  The reason this happens is that the supply of sellers would essentially be exhausted and no one else is available to sell.  As my colleague Chris Tedder noted in his article that I linked to above, the AUD/USD runs the risk of breaking out of its long term bullish channel, further influencing the sell crowd that now is the time to short the AUD.
If that were to happen, there may the chance for a bounce soon after that could catch a lot of investors off guard; the difficult part is finding where that point may come.  Using Fibonacci based technical analysis shows that there is a confluence of support at the 78.6% retracement of the February low to high, as well as a completion of a shorter term bullish Butterfly pattern near 0.7700.  If these technical factors were to combine with the fundamental push, that level may be an unexpected staging ground for a squeeze of the newly acquired shorts.  Then again, the RBA could just surprise everyone by not cutting interest rates and then the AUD/USD may very well stay within that longer term bullish channel.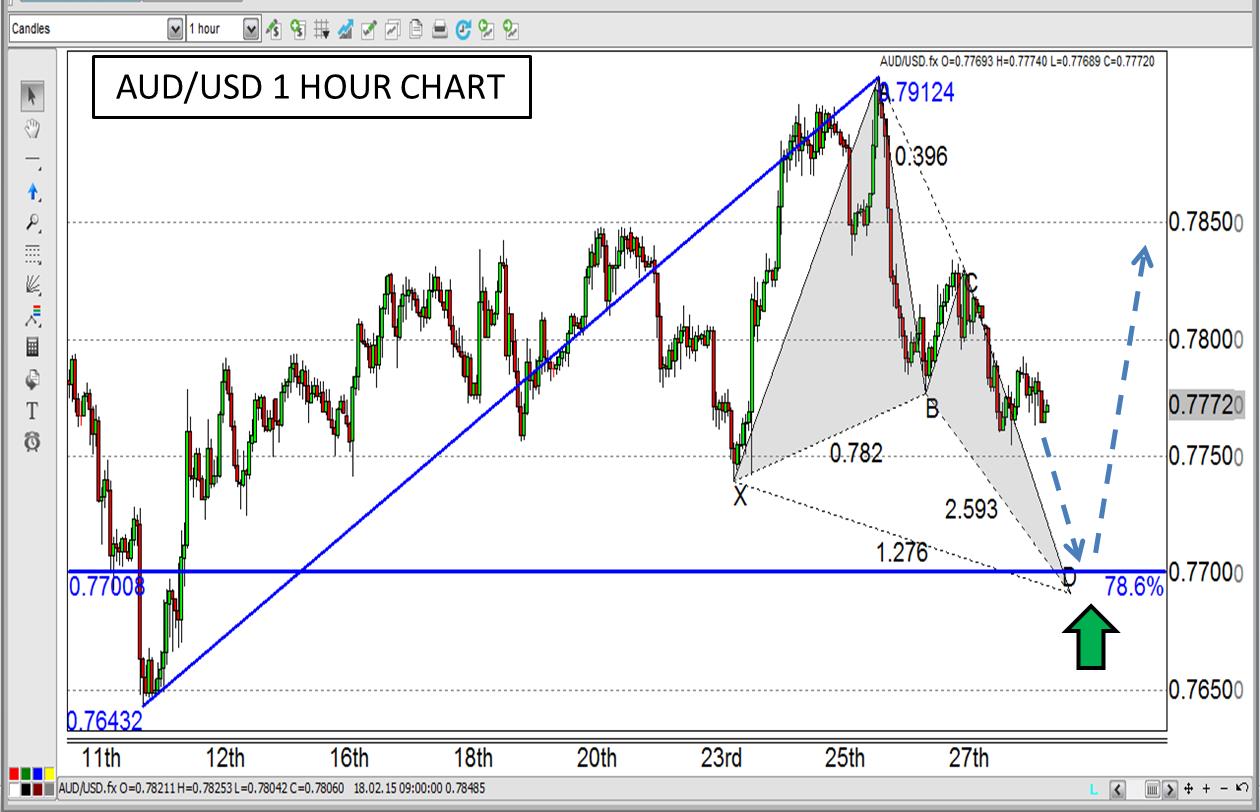 For more intraday analysis and trade ideas, follow me on twitter (@FXexaminer ).