The Reserve Bank of Australia left the official cash rate (OCR) at 2.25% at its monetary policy meeting in Melbourne today. This came as a surprise to most of the market and resulted in a huge rally in the Australian dollar, but the announcement that it's considering easing at later meetings may put a cap on the aussie's rally.
The decision to remain on hold today may mean that the RBA is growing more concerned about the rapid rise of house prices in Melbourne and, especially, Sydney. The bank simply noted that it 'is working with other regulators to assess and contain risks that may arise from the housing market'. It's not news that the RBA is working with APRA on a plan to control house prices in some cities using macro-prudential tools.
Governor Stevens noted that considering the board had decided to cut interest rates at its prior meeting, 'it was appropriate to hold interest rates steady for the time being'. The bank went on to explain that 'further easing of policy may be appropriate over the period ahead, in order to foster sustainable growth in demand and inflation outcomes consistent with the target'. This change of tone is consistent with the bank confirming that it remains in the midst of an easing cycle. In other words, the most likely path for interest rates remains lower.
As we explained in our RBA preview, it's not a question of if the RBA is going to ease, but when. We thought last week's very weak CAPEX data, combined with January concerning employment report may be enough to result in another rate cut this month, but it appears the RBA needs more evidence that the economy needs the support.
For those that missed the CAPEX and employment data:
• Australia's unemployment rate unexpectedly jumped to 6.4% in January (expected 6.2%) from 6.1% in December as 28.1K full-time jobs disappeared.
• Private capital expenditure fell 2.2% last quarter, missing an expected 1.6% drop, and investment intentions for the year also underwhelmed expectations.
AUDUSD
AUDUSD smashed through 0.7800 on the back of news, and even reached 0.7840 but the RBA's clear easing bias put a cap on the rally. From here we still think the bias is lower from the Australian dollar over the medium-term; the RBA may not have loosened policy today but we expect it will next month or at its meeting in May. Tomorrow's GDP numbers and next Thursday's employment data will be a key fundamental driver for the Australian dollar. Better than expected numbers from these reports may reinvigorate AUD bulls and send AUDUSD back towards 0.8000, while soft data may solidify the notion that the RBA may cut interest rates.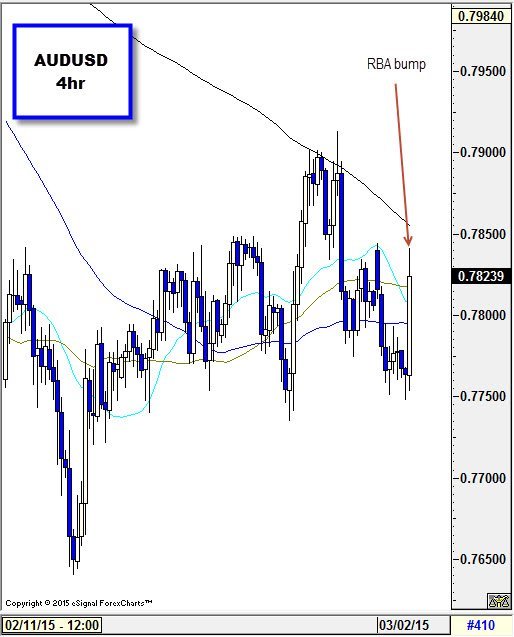 Source: FOREX.com