European stocks have had a blinding 2015 so far, the Eurostoxx index is up nearly 20% since early Jan, for all of the Eurozone's problems the market is keeping faith with European equities. The reasons for the rally are well known: QE from the ECB and a falling EUR. But surely those things are priced in now? After weeks of people talking about money flowing out of the US and into Europe, has this theme had its day?
We think no for a few reasons including:
1, Momentum: figure 1 shows the Eurostoxx index and the S&P 500, the chart has been normalised to show how they move together. As you can see, the Eurostoxx index has started to pull away from the US index. Even though the US index is still making record gains, the European index is outpacing its US rival, which suggests that momentum is on the side of European stocks for now.  What is interesting is that US stocks have outpaced European stocks for most of the last 5 years, so now it could be Europe's turn to play catch up.
2, Fundamentals: When you trade the indices it's always worth getting an overview of the economic fundamentals for the region. One way to find out if sentiment towards an economy is shifting is to look at an economic surprise index. Citigroup provide economic surprise indices for the major economies. As you can see in figure 2, as the US index has plunged to a 2-year low, indicating that data has missed expectations, while the European index has risen to a 1.5 year high as data has outperformed expectations. While the overall growth rate in the US may be higher, if economic data continues to miss expectations, or if the recent bad weather weighs on Q1 growth, then we could see the US index struggle as growth expectations for the US in 2015 are revised lower. At the same time, the Eurozone could be entering a brighter spot for its economy, which could keep interest in the Eurostoxx 50 index high.  
2, Value: While the price-to –earnings ratio of European stocks is actually higher than its US counterpart after the January price rally, the European index is some way off its 2000 highs, in contrast to US stocks which continue to move into record territory. This could trigger investors to take profit on US stocks and continue to move into European stocks where "value" and opportunity for further upside could look more attractive, especially if US economic data continues to miss expectations.
Looking ahead:
Although we think there are some solid reasons for European markets to continue to play catch up with their US counterparts in the coming weeks, we do not think that US markets will fall off a cliff. For a start the US index has a larger tech sector which is firing on all cylinders and driving US stock market gains. We continue to think that tech stocks in the US could outperform, which could keep the Nasdaq and S&P supported from a sharp sell-off.
Conclusion:
Rather than look for one index to falter and one to continue to move higher, we think that both European and US indices could move higher together, however, European indices may continue to out-perform and we could see an extension of figure 1 over the next month.
Figure 1: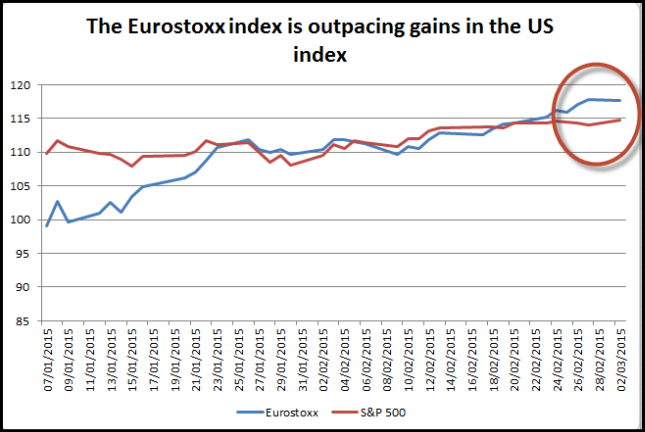 Figure 2: