Prior to the release of the latest crude supply data from the Energy Information Administration (EIA), WTI was higher on the day and for a time it was trading above $51 a barrel. Speculators were hoping that the recent trend of sharp increases in oil inventories would come to end after the American Petroleum Institute's (API) stockpiles report last night had shown 'only' a 2.9 million increase in US oil inventories. The consensus forecast for the official report from the EIA was a moderate build of 4 million barrels for the week ending February 27.
However, the actual build was significantly higher than expected once again, this time to the tune of 10.3 million barrels. Stocks at Cushing, the delivery point for WTI contract, increased by 2.4 million barrels. The change in supply of crude products was mixed, with distillates decreasing a tad and motor gasoline being unchanged from last week.
The EIA data therefore suggests that oil companies are continuing to produce oil unabatedly, adding to an already-saturated market. Ironically, it seems that the significantly lower prices are forcing oil companies to produce more in order to achieve similar levels of revenue as before the crash. Should this trend continue then prices will surely have to fall further as demand for crude is still relatively weak.
However, Saudi Arabia' oil minister, Ali al-Naimi, thinks that the supply and demand forces would soon find a balance and that this will help prices to stabilise. In fact, Saudi has already increased its asking prices for oil deliveries to Asia and the US on Tuesday, in a move that suggests demand may be on the ascendency.
Technical outlook
The daily chart of Brent (figure 1) shows the London-based oil contract is still in consolidation. As can be seen, Brent is still holding its own above $58.50/59.00, and area which was previously resistance and also corresponds with the 23.6% Fibonacci retracement level of the recent upswing. As this is a particularly shallow retracement level, it points to potentially large gains IF resistance around $62.50/63.00 eventually breaks. However if the bears win the battle here then we may see a sizeable pullback towards some of the support levels shown on the chart, with the first such level being the 38.2% retracement at just above $56.
Meanwhile the 4-hour chart of WTI (figure 2) also shows a somewhat similar picture. After creating a triple top reversal pattern a couple of weeks ago at $54.00, WTI has generally traded lower before finding some decent support around $48.75. As thing stand, a decisive break above $51.00/51.25 would mark a bullish technical development while a potential break below $48.75 would be a bearish outcome. In other words, we are neutral on WTI while it holds inside this $2.5 dollar range.
Figure 1: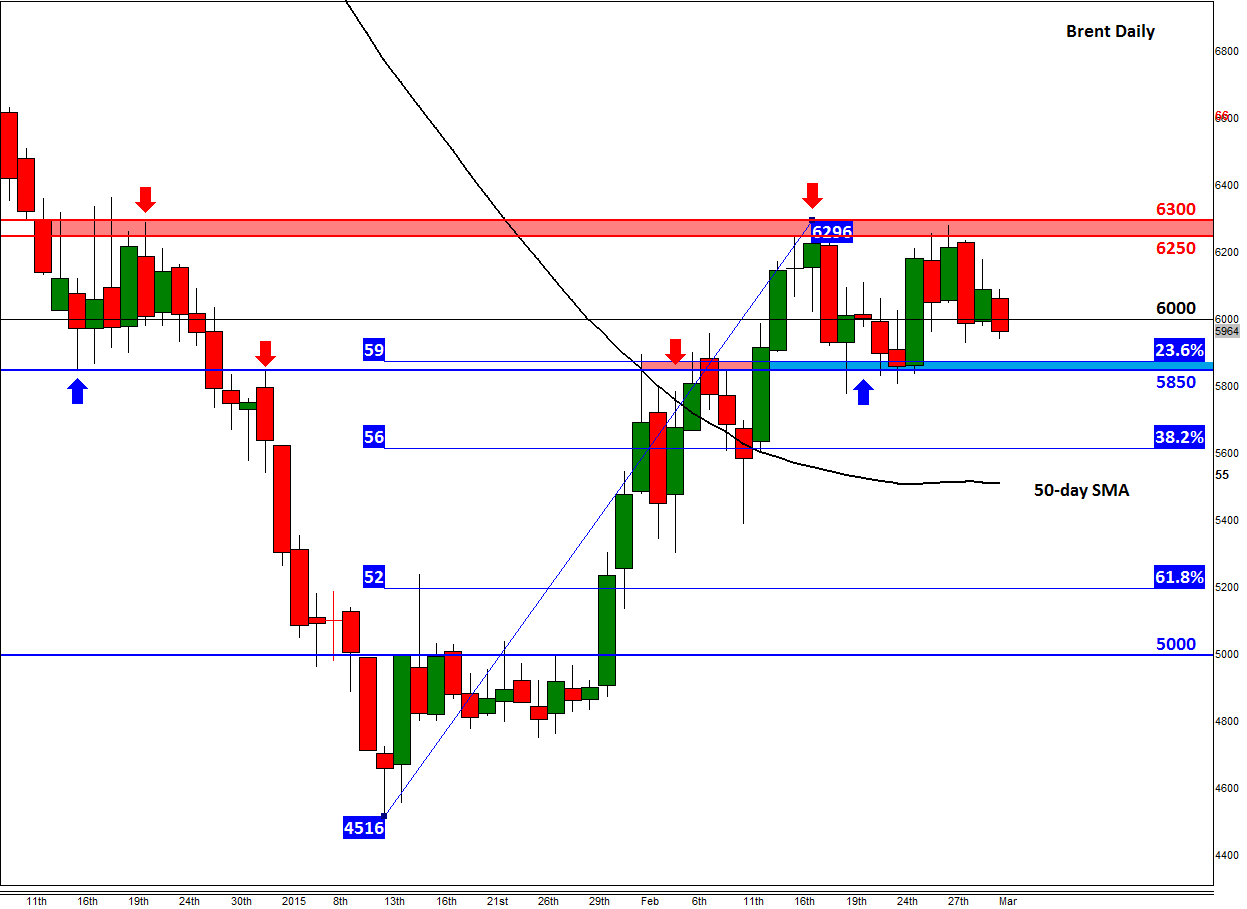 Figure 2: