Three weeks ago, we mentioned that many traders were taking a "once bitten, twice shy" attitude toward the Swiss franc after the SNB's historic decision to drop its cap on the franc in mid-January (See the second article, "Another Cup of Tea for EURCHF Bulls" here). EURCHF has since stalled out, perhaps on fears ahead of tomorrow's ECB meeting and press conference, but USDCHF has continued to truck along, breaking above the 61.8% Fibonacci retracement of the SNB drop at .9520 on Monday.
Tackling the fundamental side of the ledger first, the franc has been pushed lower by rumors that the Swiss National Bank was considering reintroducing a cap on the value of the Swiss franc. These rumors never made much logical sense; after all, why would the SNB cause such a traumatic market event just to backtrack less than two months later? As often happens though, traders "shot first and asked questions later" and sold the CHF aggressively. Even now that the rumor has since been denied, traders the franc remains weaker on the day, suggesting that traders were just looking for any excuse to buy USDCHF.
From a technical perspective, the pair remains in a strong uptrend. Rates have formed a clear bullish trend line since late January, and as long as that trend holds, the path of least resistance will remain higher. Bolstering the bullish case, the secondary indicators remain in uptrend territory, with the 4hr MACD indicator above the "0" level and the RSI still holding above support at 45 and not yet overbought.
While a short-term dip back to the bullish channel is possible in the next couple of days, readers may want to consider fading any short-term weakness. The market's sentiment, fundamentals, and technicals are all aligned against the franc, so bulls should maintain the upper hand as long as rates hold above the bullish trend line near .9530.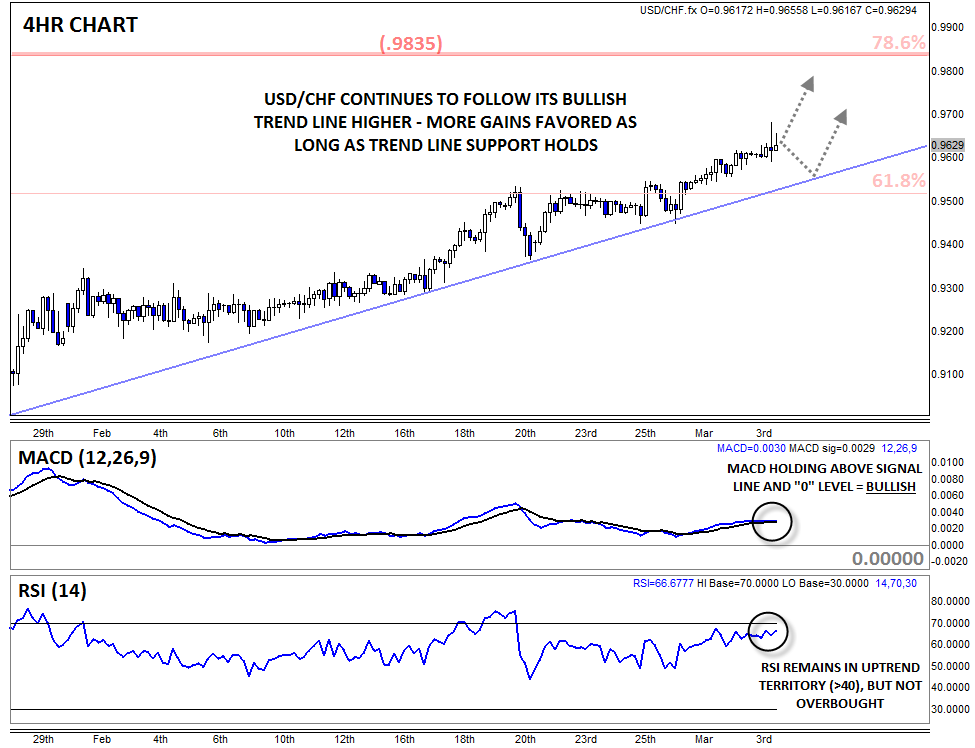 Source: FOREX.com
For more intraday analysis and market updates, follow us on twitter (@MWellerFX and @FOREXcom)