We have been a big AUDNZD bear since late 2012 when price was above 1.3000. Overwhelming fundamental weakness stemming from diverging monetary policy paths of Australia and New Zealand has been the driving force behind the sell-off. As the RBA continued to cut interest rates in 2012 and 2013 it looked more and more likely that the RBNZ would begin tightening monetary policy in early 2014. Sure enough the RBNZ hiked interest rates in March 2014 and continued to push up the OCR by 25 bps at the next three meetings. In the second half of last year the RBNZ took a break as property price inflation relaxed and economic activity began to flatten out. This helped to spark a rally in AUDUNZD, pushing it above a key resistance zone around 1.1000, but the optimism in the pair soon began to fade alongside the fortunes of the Australian economy.
The RBA was forced to lower the official cash rate in Australian to a new all-time low in February due to softening domestic economic activity and threats to growth from overseas, namely China. Recent economic data hasn't helped the rate outlook in Australia and we believe the RBA will cut interest rates again in April or May. The concern in the market regarding Australia's economic strength isn't going to go away anytime soon. Also, consecutive positive dairy auctions and an upturn in NZ economic data are lifting the kiwi.
The end result isn't good from AUDNZD. The diverging economic fortunes of Australia and NZ are underpinning another sell-off in AUDZND, but the pair cannot sustain a break of 1.0300. This is partly because of the RBA's decision not to cut the official cash rate at its policy meeting earlier this week, as the market expected it would, and some technical strength in the pair. With this kind of backing it's proving difficult for price to establish a new home below 1.0300 in the short-term.
From a technical standpoint, there is some bullish divergence between price on both weekly and monthly charts. Other technical indicators aren't as convincing but our technical bias is somewhat higher at the moment. Over the long-term we still see the pair establishing a home below 1.0300, with a possible test of parity in coming month's/quarters.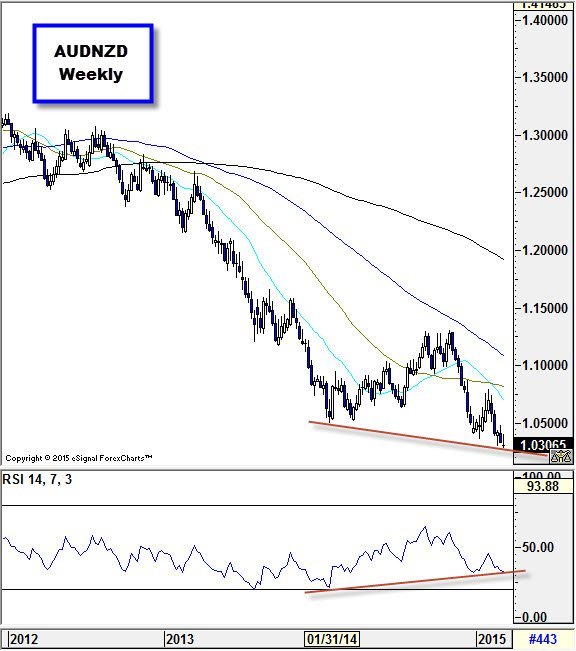 Source: FOREX.com