Earlier in today' session we highlighted some possible short-term strength in AUDNZD after the pair was rejected below 1.0300 once again. Sure enough, the pair has rallied in Asia on the back of a widespread kiwi sell-off and some interesting comments from RBA deputy governor Lowe. He sparked a in AUD by stating that the commodity currency was closer to fair value than it had been in a couple of years and that central banks cannot go it alone, they need help encouraging businesses and consumers to increase spending. The comments saw AUDUSD spike up to 0.7840, before returning to around 0.7820 later in the session.
Both the kiwi and aussie brushed off news that China cut its growth target to around 7%, from 7.5% last year (the economy actually grew at 7.4% in 2014). Premier Li also lowered China's CPI target to around 3%, from 3.5% in 2015. This news was expected so there was only a limited reaction in the FX market. However, Chinese stocks didn't like the news, with the Shanghai Composite falling around 1% in morning trade.
The government has already moved to boost inflation and growth through target stimulus and by cutting the RRR and interest rates (see: China roundup: the PBoC is scrambling to prevent a hard landing). Many analysts believe that these moves aren't going to be enough and more RRR and interest rate cuts may be coming soon. This is largely because China's economy is showing signs of stress; there appears to be a lack of domestic demand and the economy is too reliant on exports, which have also tapered lately.
One to watch: EURNZD
EURNZD hit a new all-time low at the beginning of the Asia session but the pair has since regained some of its lost ground. The pair has bounced off the base of its long-term downward channel and may be due for a period of short-term strength, but our overall bias remains lower. In any event, it's worth keeping an eye on the ECB's policy meeting tonight (see my colleagues Kathleen Brooks' report: ECB meeting preview: EUR falters as we get closer to QE).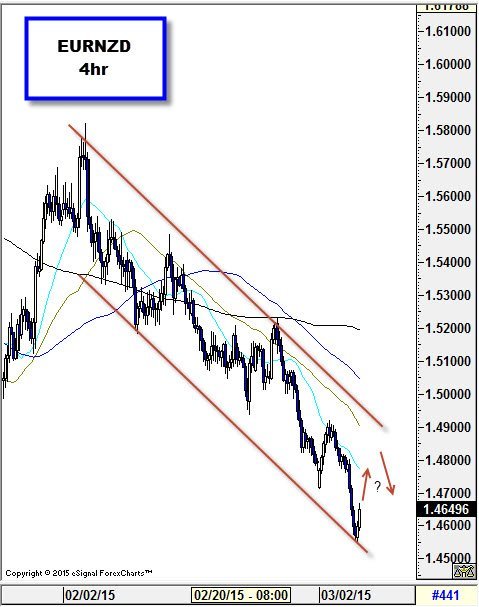 Source: FOREX.com