Despite the broad-based strength in the US Dollar, the New Zealand dollar has managed to hold its own against the world's reserve currency over the last few weeks. Unfortunately for kiwi bulls, that resilience may finally be coming to an end on the back of news that the RBNZ is mulling new rules to cut down on excessive property investment.
Similar to its neighbor across the Tasman Sea, New Zealand is experiencing an awkward mix of rising housing prices but subdued inflation in everything else. On one hand, the RBNZ would love to raise interest rates to decrease what it sees as "dangerous" speculation in the housing market, but on the other hand, a rate hike would further limit broader inflation, which the central bank would love to see rise from its current 0.8% q/q level back into its target range of 1-3%. In an effort to balance these concerns, the RBNZ is considering so-called macroprudential measures that would require banks to withhold extra regulatory capital for loans to residential property investors.
While the exact details of the program will not be ironed out until early April, the market has essentially interpreted this announcement as a sign that the central bank will not increase interest rates in response to elevated housing prices. Combined with news that China, New Zealand's biggest export market, expects to grow at a slower pace this year, the Kiwi's fundamental picture has been hit hard on two fronts.
Technical View: NZDUSD
On a technical basis, there's some evidence that the RBNZ's actions may have put a near-term cap on the NZDUSD. The pair stalled out against previous-support-turned-resistance at .7610 both in late February and again yesterday. With today's break below .7500 support, rates have confirmed a double top pattern. Meanwhile, the unit is also edging below 5-week bullish trend line support, opening the door for a deeper retracement. At the same time, both the MACD and RSI are starting to turn lower off previous resistance areas and the pair is forming a clear Bearish Marubozu Candle* thus far today, signaling that the advantage is shifting in favor of the sellers.
As long as we don't see a notable recovery during today's North American session, more weakness will be favored in NZDUSD. To the downside, short-term bears may look to target the 38.2% Fibonacci retracement at .7445 or the double top measured move target at .7400. With both fundamental and technical factors aligning with the bears, NZDUSD could be in for a spate of weakness in the coming days.
* A Marubozu candle is formed when prices open very near to one extreme of the candle and close very near the other extreme. Marubozu candles represent strong momentum in a given direction.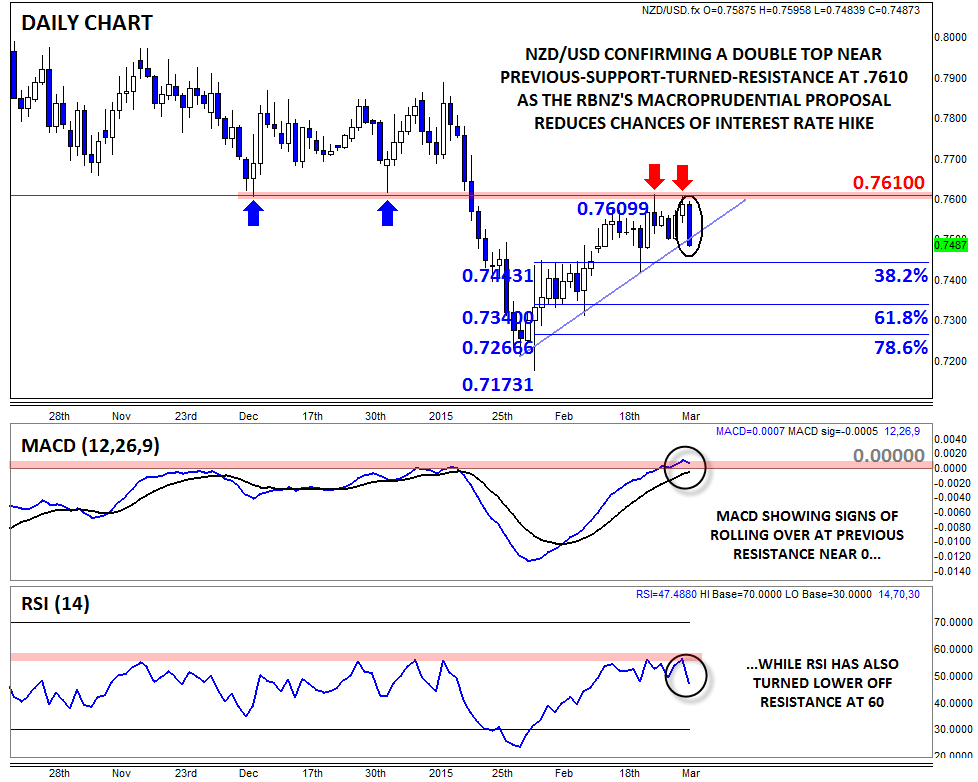 Source: FOREX.com
For more intraday analysis and market updates, follow us on twitter (@MWellerFX and @FOREXcom)