The Australian dollar has been regaining some of its lost ground in Asia, with AUDUSD currently testing a resistance zone around 0.7800. Meanwhile, AUDCAD has done an about-face around its 100-day SMA. The pair has been on the back foot recently due to a relatively upbeat policy meeting at the Bank of Canada and some stronger than expected economic data (the Canadian economy grew 0.3% last quarter, beating an expected growth rate of 0.2%). Earlier this week the BoC decided not to cut interest rates and highlighted some strength in the economy. This was more than the market was expecting, as evidenced by a rally in the Canadian dollar.
In Australia, the RBA also elected not to lower interest rates at its policy meeting earlier in this week, which came as a surprise to most of the market. The bank went on to explain that 'further easing of policy may be appropriate over the period ahead, in order to foster sustainable growth in demand and inflation outcomes consistent with the target'. This change of tone is consistent with the bank confirming that it remains in the midst of an easing cycle. In other words, the most likely path for interest rates remains lower.
Nonetheless, the exact outlook for interest rates in both economies remains uncertain and dependant on economic data and the path of certain key commodity prices (building approvals and trade numbers are due out of Canada tonight). From a technical perspective, AUDCAD is looking very afraid of 1.000. Every time the pair reaches this level or manages to briefly jump higher, price collapses. However, this key psychological support zone isn't out of reach, the market may just need more confirmation from the fundamentals before making this big leap!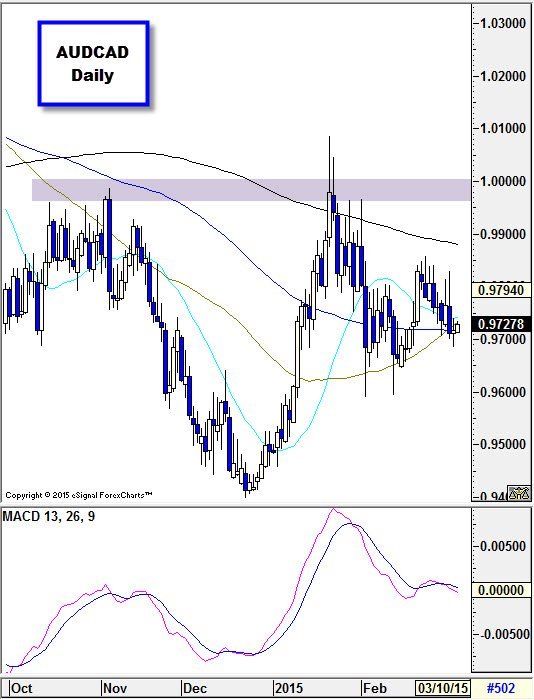 Source: FOREX.com