After last month's "perfect" NFP report, hopes were high heading into the United States' marquee labor market release. As if for dramatic effect, the report was delayed by around a minute, and there were some mixed signals to digest when it did come out, but the big takeaway is that the US labor market recovery remains on track and the possibility of a June rate hike by the Federal Reserve remains definitively on the table.
Non-Farm Payrolls rose by 295k in February (beating expectations of a 240k rise) and the unemployment rate ticked down to a 7.5-year low of 5.5%, but the innards of the report were more mixed than the headlines. For one, the January jobs report was revised a tick lower (-18k jobs), taking some of the luster off the strong headline growth. Most importantly, average hourly earnings rose by only 0.1% m/m vs. expectations of a 0.2% rise; the year-over-year reading was only 2.0% vs. 2.2% expected.
As we've noted repeatedly, wage growth has been the missing piece to the Fed's rate hike puzzle, and today's modest reading on that front still leaves plenty of questions for the Federal Reserve. In the short term, the Fed will have to decide whether this strong-but-not-perfect reading into the labor market is enough to remove its pledge to be "patient" before raising interest rates at its meeting in two weeks. In our view, it's likely that the central bank would like to maintain as much flexibility as possible, and today's decent jobs report should provide enough of a reason to at least put the possibility of a June rate hike on the table by removing the pledge.
The bigger question is how economic data, prominently including job growth and employee wages, will evolve over the next few months, and today's report doesn't definitively provide a path to follow moving forward. Both traders and the Fed will be as glued as ever to the economic over the next few months.
Market Reaction
The market reaction to today's Non-Farm Payroll report has been generally supportive of the bullish-dollar, pro-June-rate-hike crowd. As we go to press, the US Dollar Index is trading up over 1% on the day, driving EURUSD to a new 12-year low under 1.0900 and USDJPY out of its month-long consolidation range. The latter pair may now look to target its 7.5-year high at 121.84 next (see chart below). Meanwhile, US equities have pulled back slightly, and the US 10yr bond yield has spiked by 8bps to 2.20%, reflecting a greater likelihood of earlier rate hike by the Fed.
At first glance, it looks like this month's jobs report will only strengthen the "King Dollar" trade heading into the Federal Reserve's highly-anticipated March monetary policy meeting.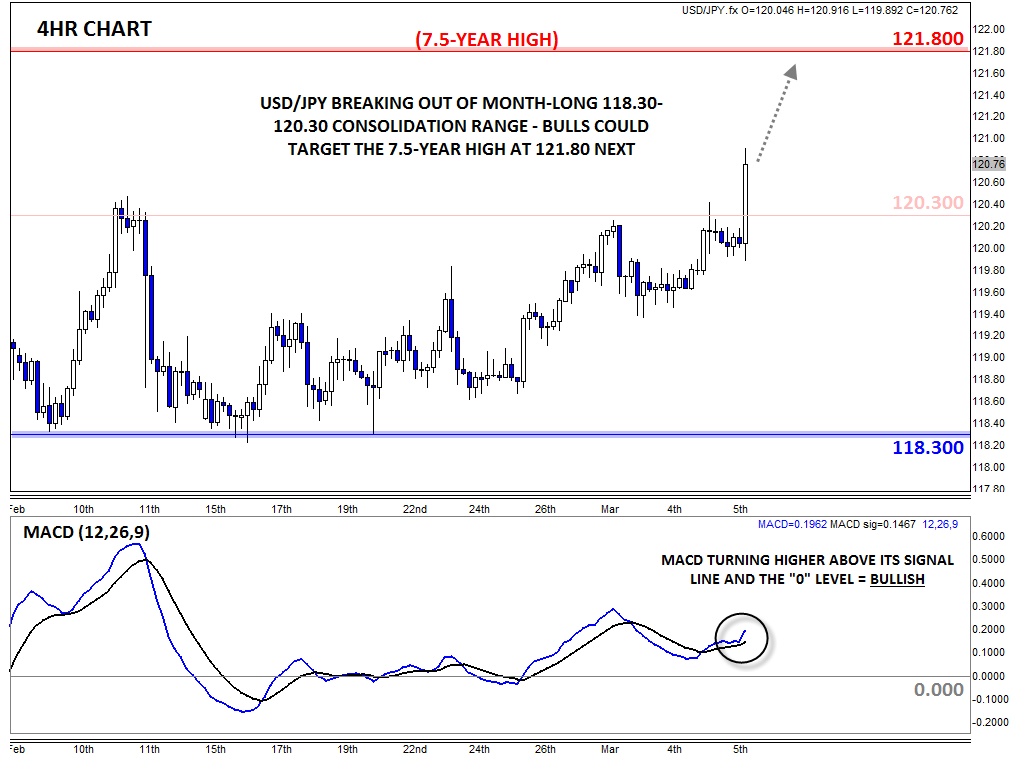 Source: FOREX.com
For more intraday analysis and market updates, follow us on twitter (@MWellerFX and @FOREXcom)