China's trade surplus hit a new record high last month as exports surged and imports fell. Exports jumped an impressive 48.3% y/y in February, after falling a revised 3.2% y/y in the prior month. The abnormally large increase in exports is largely due to increased demand from the US and distorted data resulting from China's lunar New Year holiday. The surge in February has pushed export growth in the first two months of the year to 15%, but this pace isn't sustainable. As we previously stated, trade figures can be heavily distorted in the months around Chinese New Year, thus they are taken with a grain of salt. In saying that, increased demand from the US and other advanced economies is encouraging.
However, China's soft import market raises a lot of questions about the strength of domestic demand and don't bode well for Australia – iron ore imports from China dropped almost 28% and coal imports dropped 45%. The government is attempting to transition the economy away from being so reliant on its export market, but a lack of activity at the ground level in China is making this almost impossible at this stage. Inflation numbers which are due to be released at 0130GMT tomorrow will provide us with even more insight into the health of Chinese domestic demand (exp. 1.0% y/y).
One may expect that a surging trade balance would be good for a nation's currency, but this isn't happening with the yuan. Despite the record trade surplus last month, we aren't expecting it to have much of a positive impact on the RMB, if any. The first reason is that the figures are distorted which casts doubt over the longevity of any potential rally in RMB, but the main reason is that the market is still concerned about the health of China's economy, and any positive flow-on effects from today's strong export numbers is likely to be mostly curtailed by the very soft import figures.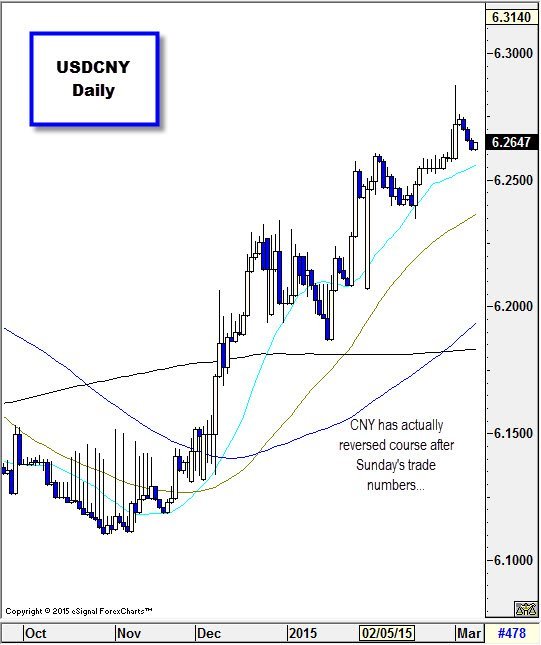 Source: FOREX.com