Markets are off to a relatively slow start, with the dollar broadly pulling back after Friday's post-NFP surge. Indeed, the entire economic data calendar is less action-packed than last week, with hardly any top-tier reports out of Europe, Japan, or the United States this week. That said, the commodity dollars could pick up the news-trading baton this week, with an RBNZ meeting and AU employment report on Wednesday, as well as Canada's February jobs report on Friday.
If any currency pair could use an injection of volatility, it's USDCAD. The North American pair has been consolidating within about 100 pips of the 1.2500 handle for nearly six weeks now, putting in marginal lower highs and higher lows along the way; in other words, the unit is in a symmetrical triangle pattern. An analogy we often use to describe this pattern is that of a coiled spring: as the range continues to contract, energy builds up within the spring. When one of the pressure points is eventually removed, the spring will explode in that direction.
As a rule, it's notoriously difficult to predict the direction of a breakout from a symmetrical triangle pattern in advance, but technical oscillators can often provide confirmation of a breakout. In this case, the RSI indicator is carving out its own triangle, so traders should keep an eye on that indicator for a possible leading or confirming signal of a breakout in USDCAD itself.
As we go to press, USDCAD is fading from the top of its pattern at 1.2600 and with the noteworthy economic reports scheduled for release on Thursday (US Retail Sales and Initial Jobless Claims) and Friday (Canadian employment and US PPI), the pair could easily remain in its familiar 200-pip range around 1.2500 early this week. That said, we could absolutely see a big breakout later this week, and such a move could set the tone for the rest of the month. Based on the triangle pattern's height (375 pips), a bullish break potentially targeting major previous resistance at 1.30, while a bearish break could suggest a retracement back down to the 1.20 level.
After weeks of slow consolidation, it wouldn't be completely "loonie" to expect a major breakout in USDCAD this week.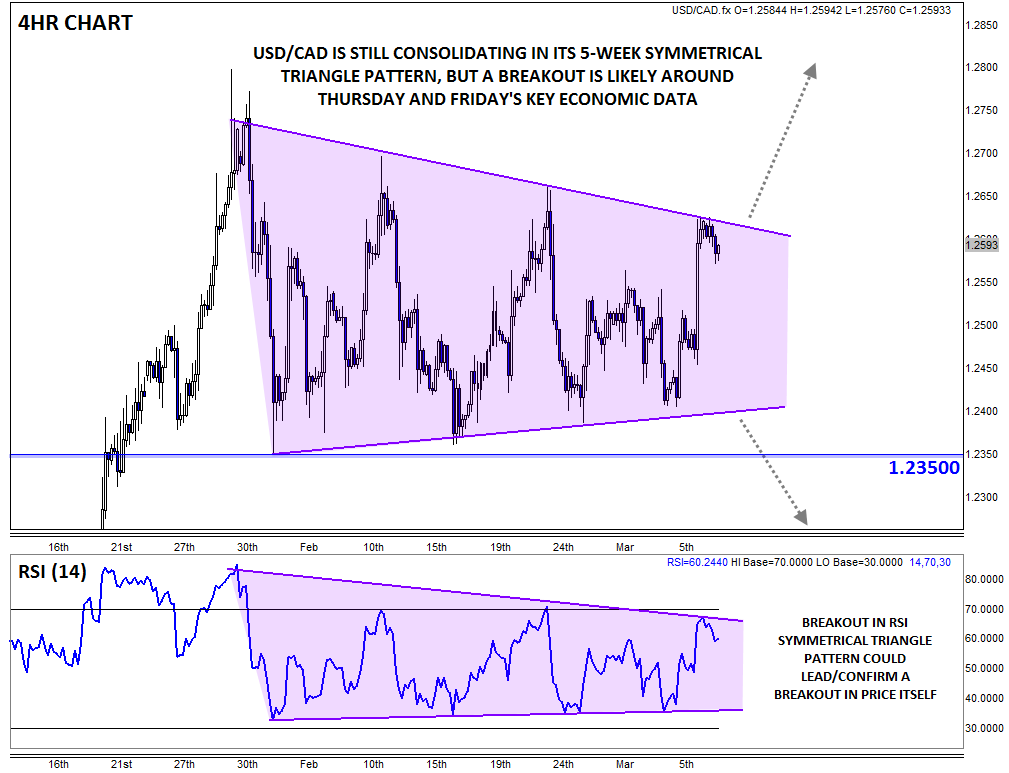 Source: FOREX.com
For more intraday analysis and market updates, follow us on twitter (@MWellerFX and @FOREXcom)