The US dollar reigned supreme in Asia, with EURUSD falling below 1.0800 for the first time since September 2003 and USDJPY breaching 122.00 for the first time since July 2007. There were equally big moves across the majors as the dollar index pushed to a new 11.5-year high. Some comments from Dallas Fed president Fisher helped to spur on the dollar strength story that is dominating the FX market at the moment. Fisher said that it is better to raise rates early and gradually to avoid having to raise them steeply if 'lift-off' is delayed.
The widespread push towards the dollar helped AUDUSD and NZDUSD brush aside some better than expected Chinese inflation figures. Although, considering that the driving force behind the recent boost to inflation was China's new year celebrations, this isn't surprising. The different timing of the festival this year resulted in the year-on-year figures being distorted.
Consumer prices rose 1.4% y/y last month, beating an expected increase of 1.0%, and producer prices remain firmly in deflationary territory, after falling at a rate of 4.8% y/y in February. This is the 36th straight month of falling producer prices as persistent overcapacity continues to weigh on prices, and we are expecting consumer price growth to slow once the effects of China's lunar new year festival wears off. In fact, it's entirely possible that China's CPI will drift below back 1.0% in the near-term, which will represent less than a third of the government's official CPI target – no wonder the PBoC continues to ease monetary policy.
NZDUSD hit from all sides
The kiwi was further assaulted on the back of threats to NZ's dairy producers. NSX halted trading in dairy industries and NZDUSD was pushed below 0.7300. NZDUSD has since stabilised along with the rest of the majors, but they weren't able to regain most of their lost ground.
However, there are some signs that the sell-off in NZDUSD may have gone too far, at least from a technical perspective. There is bullish divergence between price and RSI on a 4-hour chart, which suggests that bears may have overextended the sell-off.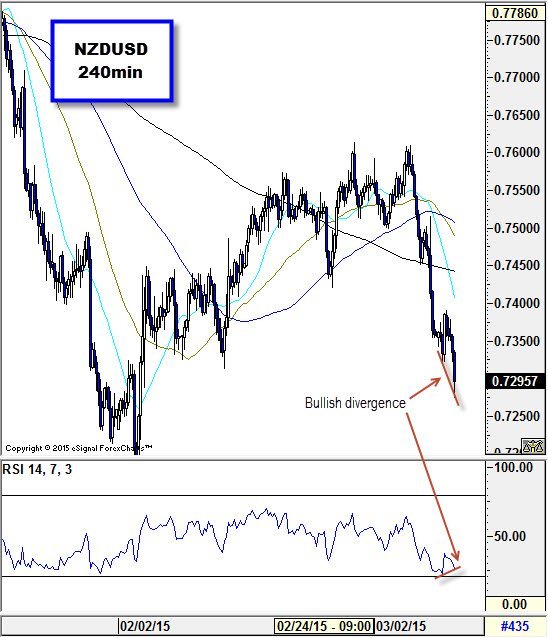 Source: FOREX.com