The North American trading session is kicking off with some excitement this morning as renewed fears of a Greek exit of the Eurozone have been stirred up for the 1,487th time in the last few years.  The euro is taking it on the chin as the EUR/USD fell all the way to a 12 year low at 1.0720 before bouncing back up in a way that some would categorize as posthumously feline toward 1.08.  Equity markets are also taking a hit with both Dow and S&P reversing all the gains they earned yesterday while Gold has earned a little safe haven seeking boost. 
The Grexit fear this time around is that the Greek government is dragging their feet in implementing the agreement they made with the Eurogroup a couple of weeks back.  This new drama began to unfold yesterday almost at the same time Apple was unveiling their new watch, a point which I referenced in jest on Twitter.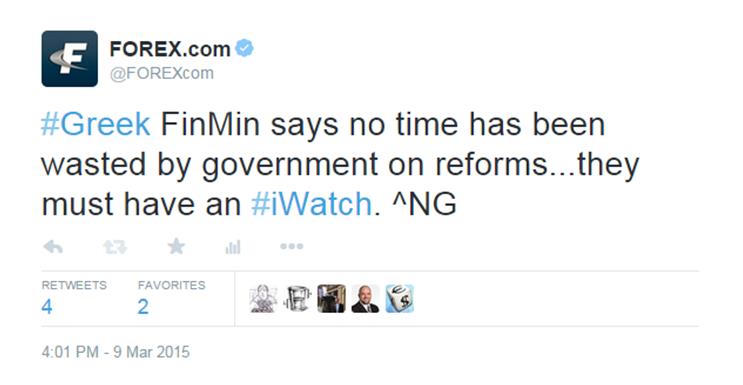 Simply based on the irreverance of the tone of my tweet, I didn't suspect that the Greek Finance Minister's words of defense would end up being such a big deal, but we are operating in a different kind of environment when it comes to the Eurozone.  The European Central Bank's Quantitative Easing program is now in full swing which has driven German 10-Year bond yields are all the way down to 0.31% with earlier years even being negative.  Essentially, you would be paying for the privelege of loaning money to Germany; I think my six year old daughter would even come to the conclusion that that is a bad investment.  Given that situation, capital may very well likely continue to flee the euro in droves.
While it may be tempting to try to find some support levels for a short squeeze in the EUR/USD, the sobering fact is that there isn't anything to really reference.  Sure, we could look at psychological supports in the form of round numbers, but they haven't done much supporting of late.  Plus there aren't any recent levels of support either as I noted that we are at a 12 year low earlier in this article.  Therefore, the next logical level of major support is parity in this pair which is still over 700 pips away as I go to press.
Since support levels are so difficult to determine, the most obvious choice for trading this pair would be to seek resistance.  Due to the fluctuating nature of markets, we know there will be bounces back up after moves down -- these are the opportunities to seek; and one of the most effective methods of finding resistance in this manner is using Fibonacci retracements.  This morning's bounce has already hit the 38.2% retracement of yesterday's high to today's low, but could retrace further as Grexit fears dwindle.  Nevertheless, when dealing with the euro, this appears to be nothing but a seller's market.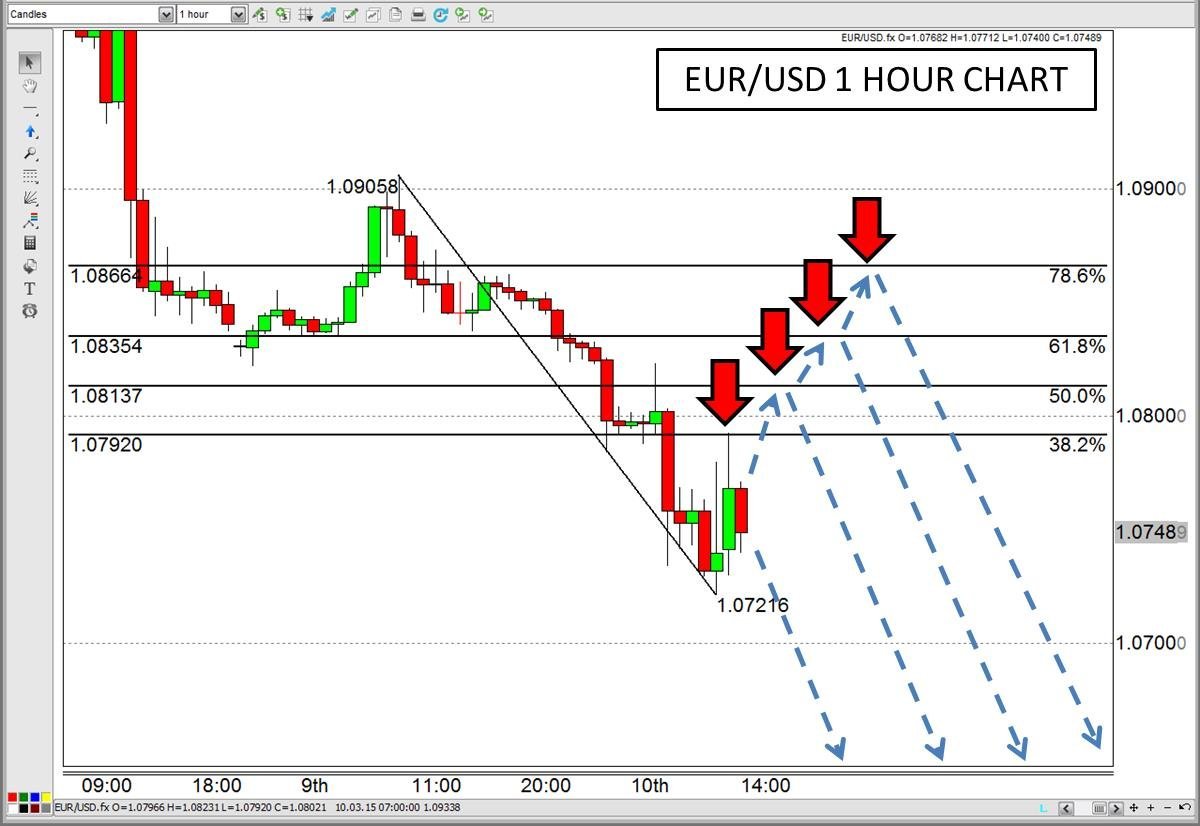 For more intraday analysis and trade ideas, follow me on twitter (@FXexaminer ).