Less than two months after the Swiss National Bank shocked the market by dropping its cap on the franc, leading to an immediate 20% appreciation in the currency against the US dollar, King Dollar has clawed its way back to trade above the yearly open at 0.9936. If someone had predicted that after the SNB's decision in mid-January, they would no doubt be locked in a mental institution by now, but that fact just serves to underscore the current dollar-bullish environment.
We last checked in with USDCHF last week (see "Choo Choo! USDCHF Train Still Heading North" for more), concluding that "bulls should maintain the upper hand as long as rates hold above the bullish trend line near .9530," but even as USDCHF bulls, we have been surprised by the ferocity of the rally over the last four trading days. According to our prices, the pair has put in a daily high at .9999, close enough to parity (1.00) for government work.
While the USDCHF bullish train continues to chug along as fast as ever, there is some evidence that it may be getting overcrowded. Beyond key psychological resistance at 1.00, the pair's RSI indicator is now peeking into overbought territory, increasing the probability of a short-term dip. For now, the MACD is still trending higher above both its signal line and "0" level, showing bullish momentum.
The current technical setup creates a relatively clear outlook for the rest of the week: If USDCHF can clear the resistance hurdle at 1.00, a bullish continuation toward the year-to-date high at 1.0250 is possible. On the other hand, if prices are unable to pierce that barrier, a pullback toward the medium-term bullish trend line in the .9600s is definitely in play. With no major data beyond Thursday's US Retail Sales figures scheduled, the pair may continue to trade on technical, rather than fundamental, considerations.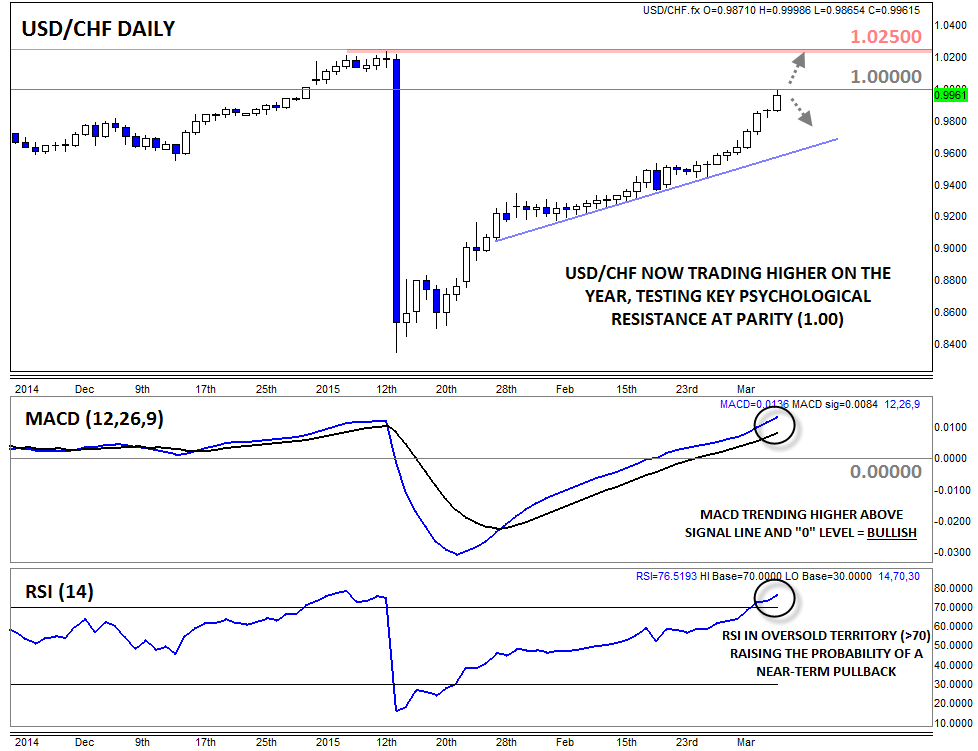 Source: FOREX.com
For more intraday analysis and market updates, follow us on twitter (@MWellerFX and @FOREXcom)